Feb 02, 2022
Today is Groundhog Day. Yesterday marked 17 years since I moved from the Eastern wasteland to the hallowed hills of Ohio.
I've always liked Groundhog Day, and as a child I could not understand why we did not get it off from school (though given its location in the calendar we occasionally did for other reasons, but not often because in my district school was canceled only when it was certain that no buses could complete their routes).
It was the subject of the first joke that I made up all by myself, having to do with it being the day we all ate sausage. (I didn't say it was a good joke, and I was 6 years old at the time.)
When I was a kid, not as much fuss and spectacle was devoted to the pseudo-holiday as there is now. Which was probably a good thing. It wasn't until later that the Pennsylvania marmot and various wannabes elsewhere gained the attention that they enjoy, if that's the word, today.
My arrival here, at dusk on Groundhog Day Eve in 2005, is something I remember fondly. I'd nearly gotten lost on the way to the house and was happily rewarded, when I found it, by the warmth because Leonard and June had stopped by and turned it on for me, even though I'd bought their house without having met them (it was connected to the gas well across the street back then, so keeping the place warm wasn't an expense).
What I remember most of that first Groundhog Day, indeed the whole first month I spent here, was how gray the sky was, day after day. Each morning I'd awaken and look at the little dab of snow on the ground. It would be gone by noon, but next morning it would be back. The lesson from that month was how much we rely on the sun to orient ourselves. By the time I saw the sun, my mind had already wired in a sense of direction 90 degrees counter-clockwise from the compass, and to this day part of me is jolted by the sun rising in the south and setting in the north.
A lot has happened in my years here in Athens; let no one say that life here isn't full of richness and texture. One of my favorite things from among those years is the acquisition of a recipe that seems especially designed to bring cheer on the gray post-groundhog days when it is clear that winter will never end.
In recent years, it has been the second half of winter that has really hammered us; I'm thinking especially of the night of March 4, 2015, when things went from fairly pleasant though gray in the afternoon to a terrible snowstorm and temperatures that fell, here, to more than 20 degrees below zero that night, all of which was exacerbated by flooding on the roads to and from my house, and the power going out. I made this recipe that day (baking it atop the woodstove, the baking tin covered all around by the lid from a turkey roasting pan; it came out well, but that was due to pure dumb luck; I recommend a proper oven).
Here is the recipe:
½ cup oil (canola is best, I think)
2 eggs
1 teaspoon vanilla extract (or a little more – what the heck)
1 ½ cups flour (I use unbleached all-purpose)
1 teaspoon baking soda
1 teaspoon baking powder
1 cup sugar
2 teaspoons ground cinnamon (or more, or less)
A pinch of salt (always use a pinch of salt – trust me)
3 large apples (Gala and Fuji seem especially good for this)
Core and peel the apples and slice them as thinly as you can. Mix the wet ingredients and the dry ingredients separately, then combine them. The result will be so thick you're sure you did something wrong. You didn't. Fold in the apples, making sure they're evenly spread in the batter. Pour the batter into a heavily greased glass 8x8 baking dish and bake at 350 degrees for an hour. Stick in a toothpick after 55 minutes; if it comes out clean you can put it back with the other toothpicks and nobody will know. (Okay, I made that up. If it comes out clean it means the cake is done.) Let it cool, lightly covered, for a long time because it takes a long time to cool. You can turn it out of the dish after it's completely cooled, but you can also serve it from the dish, cornbread-style. The recipe can be doubled. (And it will take more than an hour if you're baking it atop a woodstove.)
You'd be surprised at how cheerful this makes everything, even during a Level 3 snow emergency, when it seems as though we will be on a frozen planet forever and might as well get used to it. It makes the house smell good. Amazingly, the apples disappear pretty much entirely as the cake bakes, which means you can even use those pretty-but-mealy, generally inedible apples without any harm.
This is a winter dish. It's a little heavy for the summer, and, anyway, who wants the oven going in July for anything except strawberry-rhubarb crisp?
It won't make winter pass any faster, but it will make winter a little more tolerable, even enjoyable.
Oh, and it goes very well with sausage. On ground hog day.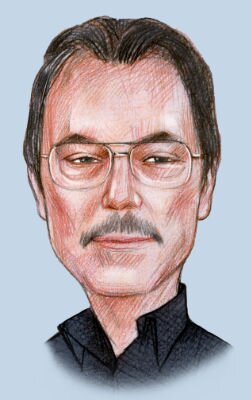 Dennis E. Powell is crackpot-at-large at Open for Business. Powell was a reporter in New York and elsewhere before moving to Ohio, where he has (mostly) recovered. You can reach him at dep@drippingwithirony.com.