Jul 05, 2021
Wimbledon began on June 28. After not being contested in 2020 because of the coronavirus pandemic, tennis's premier tournament is back. This era of tennis has been utterly dominated by three men: Roger Federer, Rafael Nadal, and Novak Djokovic. If Djokovic were to win the tournament, he would join Federer and Nadal at the very top of the all-time list, in terms of major victories, with 20. Most observers believe that since Djokovic remains at the top of the rankings at this very moment, and is five years younger than Roger Federer, while being more dominant on all surfaces than Nadal, he will be the most decorated major champion in tennis history before long. Roger Federer, the great Swiss legend, still has something to say about that, at age 39.
In just more than a month, he will turn 40. Although he has endured injuries and surgeries to repair them recently, and has been out of action for the most part, he is still a serious threat to Djokovic's designs. Novak, for his part, triumphed at the French Open in Paris, beating Nadal in the semifinal on Nadal's best surface (clay) at the major tournament that Nadal has won an absurd 13 times.
The grass at Wimbledon belongs to Federer. He has triumphed there eight times, surpassing the record of his childhood hero Pete Sampras, who won Wimbledon seven times, and was the previous record holder for the most men's major championships all-time, with 14. The one criticism of Sampras that he could never shake was the fact that he never won on the red clay in Paris, which Federer did, in 2009. The Swiss maestro could make the argument in fact that he is the second-best ever on clay, only prevented from winning the French major more times by Nadal himself.
Roger also is motivated to erase the memory of the 2019 championship final, where he had championship point several times against Djokovic, only to eventually lose the match. It seems clear enough that he would not have returned from the knee surgeries to play again, if he did not believe that he could win the biggest tournaments still. I can recall a piece on ESPN.com in 2009, which maintained in the case of Federer that we were about to witness the greatest twilight of a sporting career ever witnessed. That was 12 years ago.
Whether the great Swiss champion can ever be the king of the mountain again is almost secondary to the point that we are still talking about it, and those odds, while long, are not insurmountable. We are on the cusp of having three men holding 60 major titles between them, while they compete all at the same time. There are only four majors in each calendar year.
The other interesting aspect to this competition is that the rivalry between the three men is mostly friendly, although Djokovic struggles with the fact that he will never be as beloved as the other two. Roger Federer's devoted following is so fanatical that chair umpires routinely must quiet the clamorous crowd, to allow his opponent to fairly contest the match. I cannot recall how many times he has been voted the most popular player by the players themselves, but I doubt that a rival has been more beloved in any sport.
But it had been Nadal who first arose to challenge the Swiss star. It truly was tennis's version of Muhammad Ali and Joe Frazier. The spectators knew that the story of the sport would be written by these two men. It's not an exhaustive account, but the quality of their tennis above that of every other rival was something to behold. Rafael Nadal, noted for his tireless effort and desire for victory, with groundstrokes that bounce high, with heavy topspin. Federer, with his peerless movement and graceful shots, who dominates opponents by never being surprised by anything that happens on the court. He possesses an anticipation that rivals Wayne Gretzky in hockey, or LeBron James in basketball.
The forgotten Serbian star Djokovic had no regard in a sense for these two great champions, and he carries a winning record against both of them, while he has amassed 19 major titles in the past 14 seasons. It is an absolutely stunning run of success, often at the expense of the other two legends.
It is true that older generations of players did not regard the Australian Open with the major status that it now possesses, but that is not the fault of Novak Djokovic, who has triumphed there nine times. He is the heavy favorite at Wimbledon this year. His signature is offensive defense. He is never out of a point, and he can hit a great shot to turn around a point from anywhere on the court, and sometimes off it. I think he now relishes playing the villain, knowing that he will never win over the crowd, as long as his two rivals still compete. He seems even more fueled by emotion than his rivals, often using the distaste of the crowd as motivation for victory.
Though evidence of his jealousy of sorts can be found, he is nothing but gracious, when speaking of both Federer and Nadal. They clearly have pushed one another to new heights of greatness. Though it is obvious that especially Federer does not have much longer to stand in the golden sun, I don't think anyone can say they know that this era is soon coming to a close.
As of this writing, Roger Federer had won his first-round match after a struggle, in which his opponent was injured early in the fifth and deciding set. Djokovic has already won two matches of the requisite seven, and early upsets have made his path easier. That is of course unless his rivals can defeat him.
There has always been talk of a new generation of stars to challenge the domination of these three. It seems, however, that these three men— all in their 30s— have stolen the primes of more than one generation. There may be a falloff in quality, when any of these three legends steps away from the court. Even so, to witness their dominance has been one of the great privileges of my time as a sports fan. If you haven't seen them in action, take the chance now. Something like this may not soon be seen again.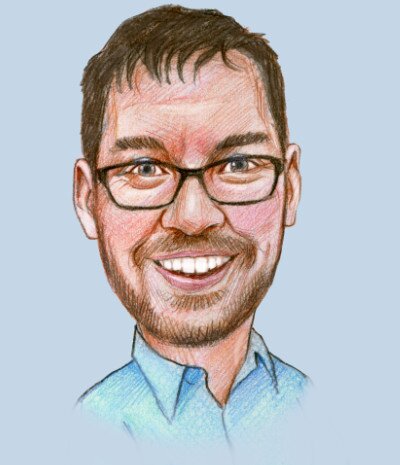 Jason Kettinger is Associate Editor of Open for Business. He writes on politics, sports, faith and more.