Feb 07, 2012
Droves of male students were flocking to a meeting on campus during my first year in seminary. I do not remember what it was called, but it had to do with why there aren't more men in churches. I walked alongside one male friend who was all pumped up about the event; he was commenting about "effeminate" churches.
I didn't have words to articulate what I was feeling, hearing this as a woman. I could not bring myself to sit in such a meeting. I don't know what was talked about or what was said, but when I get wind of phrases like the "feminization of the church" and this being blamed for the lack of men in churches, something in me dies, just a little. Or, it has the opposite effect of making my pulse race.
Years later, I heard an illustration in a sermon by Tim Keller that helped me put my thought-process together. Keller mentioned how the worst thing to call a man is a woman, and noted that, in doing so, such taunting serves men with a superiority feeling over women. Boys who cry, in this illustration, were told not to act like "girls," in order to make them stop their "weak" crying.
I am beginning to wonder if the next step is going to be taunting boys who cry with, "Don't be such an effeminate boy" (see Tim Keller, "How to Change," Redeemer Church, New York, 1998 April 19).
Pastor Mark Driscoll, leader of a megachurch in Seattle, has frequently mentioned how he could not sit under effeminate leadership or worship an effeminate Jesus. This message has resonated with many males. Driscoll has to have a leader who looks exactly like him.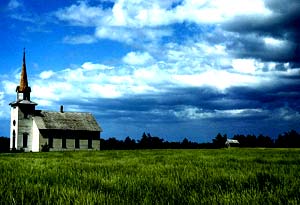 SOURCE
: Library of Congress
This hardly sounds like a mark of maturity.
To my dismay, even the Council For Biblical Manhood and Womanhood featured a blog in December titled "Soft, Effeminate Christianity." An 18th century Scottsman is quoted, but it is disappointing how this terminology has resurfaced in Reformed churches and now CBMW, which formerly had more class than this article portrays.
The article makes it seem as though femininity, lying and liberalism work hand in hand against gospel truth. It gives an overarching impression that women and softness are inherently interconnected and that softness is weakness. The article is loaded with obscure descriptions such as "cotton candy." It should be noted that women in the Bible, like Tamar and even the Proverbs 31 noble wife, were hardly "cotton candy."
I've also heard guys make comments about having better taste than the "church mothers with their Thomas Kincaid paintings." So, apparently, women are associated with bad taste, too.
The article from CBMW and the other comments above do not sound honoring to women. Instead, women are portrayed as either weak or having inferior taste. When men dishonor womanhood, they dishonor their mothers — who are in this category, after all — and they break the fifth commandment.
My proposal is that the problem does not explicitly lie in the style of the churches or their leadership. Although it might sound a bit broad, I think the problem lies in society. My line of thinking tracks with recalling the numbers of men who are addicted to pornography and video games.
Pornography is one of the most selfish addictions in existence. Through visually racy mediums, we live in a society that sends the message to men that, "it's all about you." In making the solution a revamping of the worship styles, etc., of churches to make them more appealing to men, aren't we reinforcing to them that "it's all about you"?
Ephesians 5 calls men to give sacrificially. Of course the church is not going to "appeal" to them! The gospel is a call to die to yourself. Driscoll has good intentions about getting men into church, away from pornography, and serving in their homes, but – notably – only as long as the leader looks "just like you." This is problematic, because men in Driscoll's church are expected to give sacrificially in their homes while they are not dying to themselves in serving the church.
When I think of a scenario of a bunch of men getting together and talking about how men don't go to church because the worship music is too "feminine" and because they don't want to miss their sports games on T.V., it sounds more like brooding excuses to me. In my definition, that sounds more like adolescent boys than adult men. Additionally, it should be noted that in reformed circles these are generally going to be a bunch of white men coming up with reasons which, to be honest and frank, are only going to be reflective of why white men don't go to church.
I do not pretend as though I can list all of the reasons why there aren't more men in church, but I would like to propose some solutions. First, I acknowledge that there is room to have "manly," mature leaders like Darrin Patrick of the Journey Church in St. Louis. My friend Rob is a "guys' guy," and I have encouraged him to become a pastor because I think he would broaden people's views of what a pastor could look like.
However, my bigger proposal is for the church to go on the offensive, as Ephesians 6 calls us. I would like to suggest creating a church environment where men reach out to other men with acceptance (not of sin, but as brothers). This requires a turnaround, where men look beyond their own selfish needs.
I stand firmly behind the belief that the people we remember the most in life are the people who love us. The Church will bring in men by loving them and answering the call to discipleship. (Yes, maybe loving men might include mixing up the worship styles/messages a bit here and there). But let's not blame womanhood for the absence of men. The Church will bring men in by being faithful to preaching the truth of the gospel. As men are broken by the invasion of Christ into their hearts and souls and as they chose to follow Him, they will, as a byproduct find that there is a place for them among the vast variety of saints that C.S. Lewis has written about.
The sacrificial reaching out in churches will not occur without a turnaround, and the turnaround requires prayer. Many such prayers for more men in the church will likely be delivered up by many godly mothers- Thomas Kincaid paintings on their walls and all. Perhaps many men in the church should thank God for such fierce mothers who had prayed for the salvation of their souls.
Amy Petery is a guest writer to Open for Business. She recently graduated from a major Reformed seminary with her M.Div.
Tags: