Dec 22, 2011
In our general smartphone guide, we laid out the basic smartphone situation and then looked at Microsoft's Windows Phone 7 and Apple's iOS. In this piece we move on to a sampling of Android phones available this holiday season. Whether you are looking to give someone an Android handset for Christmas, or are thinking about picking one up for yourself, these contenders cover a good deal of the Android landscape this season, ranging from the impressively affordable AT&T Impulse 4G to Samsung's flagship Galaxy S II.
At the onset, we should make one note about our battery usage remarks below. None of the Android phones we tested managed to keep power consumption as low as the HTC Titan (Windows Phone 7) or the iPhone 4S. To keep discharge rates more in line with what we are seeing on those other platforms, the Android phones below distinguish by default between "prime" and non-"prime" hours, shutting off functions such as automatically checking e-mail during non-prime early morning hours.
Motorola Droid Bionic (Verizon) and Atrix 2 (AT&T)
The Atrix 2 and Bionic are very closely related, as becomes clear when spending any time with them together. As last year's Samsung Galaxy S phones varied from carrier to carrier but were very similar in most specs, so too the Motorola Atrix 2 and Bionic look different, but offer the same 4.3" displays, 8 megapixel cameras and so on. Some of the internals vary, but the package as a whole is a variation on a very similar theme.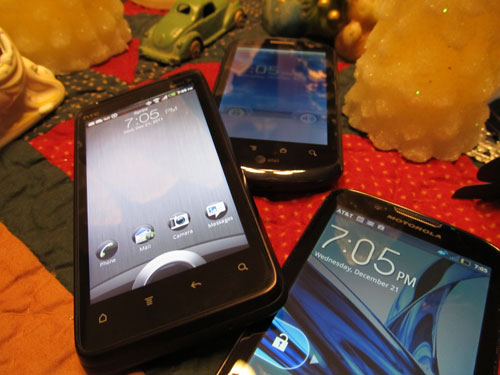 The Atrix 2 offers an ergonomically contoured exterior that fits very comfortably in one's hand. This, combined with a very nice, grippy back makes for a phone that is a pleasure to hold. The location of key buttons on the phone seems especially thoughtful; despite having a relatively large size thanks to the roomy 4.3" screen, it is easy to turn the Atrix on and navigate using one hand.
The Bionic picks up the design meme of its Motorola-designed Droid predecessors, which also provides a pleasant design, though we found the Atrix 2 a bit more comfortable to hold. The Bionic also nets twice as much built-in storage as the Atrix – a full 16 GB.
The software on the two phones is virtually identical. A significant improvement over previous iterations of Motorola's Android modifications, these two phones show a more careful attention to details of how the system is displayed to users, down to a faux-CRT "flash" when the screen turns off. (Whether that effect, and some of the others, is actually an improvement is questionable, but it does show that Motorola actually thought through small details on these devices.)
Some of these details might have wisely been spared in an effort to make the phone more responsive; while better than Android devices of the past, both of these phones have a certain amount of lag. We also had some crashing issues with each. The Atrix 2 had trouble during the initial setup, whereas the Bionic periodically lost cellular data connectivity during our trial period.
Motorola's software strength is definitely its unified account management, which not only helps to simplify synchronizing quite a few services, but also offers a unified inbox where one can read social network and e-mail messages together. This is perhaps the last vestige of Motorola's MOTOBLUR service, and really the only part that was worth carrying forward. The unified inbox seems obvious enough, but that it remains unique to Motorola makes it worth highlighting here.
Telling to network comparisons, given the similarity of the two phones, is network and battery performance. Like all LTE phones we have tested so far, the Bionic's battery life is abysmal if the phone is actively used. The Atrix 2, which uses AT&T's "4G" HSPA+ network instead, benefits from that technology's more evolutionary nature to yield a much more reasonable sort of battery life. (Though it still discharged about twice as fast as the HTC Titan or iPhone 4S, showing just how much room Android still has to catch up in the power management department.)
Concerning voice calls, both of these devices were of middling quality. Both seemed to distort voices to a greater degree than the iPhone 4S and AT&T variant of the Galaxy S II, but were better than average. Likewise, as one can see in the photo sample of the Atrix 2, below, picture quality is less than ideal; in particular, the Atrix 2 struggles to focus on objects in less than ideal light.
Performance wise, the Bionic is capable of leaving the Atrix 2 in its dust, thanks to Verizon's speedy 4G network. In real world use, how much this matters will depend on the individual user. We have found AT&T and Verizon's networks often overlap in download performance and users who frequently leave 4G coverage areas will find the Atrix 2 actually bests the Bionic when limited to 3G. Nevertheless, those who upload a lot of content from their phones will definitely want to go with the LTE option: AT&T's HSPA+ upload speeds are typically less than a twentieth of what we commonly see on Verizon's 4G network (Motorola/Verizon, $199, www.vzw.com; Motorola/AT&T, $99, www.att.com).
Galaxy S II (AT&T and Sprint)
Thankfully ditching the insane level of customization between carriers that we saw with the original Galaxy S series, the Galaxy S II on AT&T and Galaxy S II Epic 4G Touch on Sprint are essentially the same device. While each carrier has customized some of the software included, both phones run Google's Android 2.3 platform with Samsung's TouchWiz additions.
As of right now, the Galaxy S II is the smoothest running of the Android phones we have encountered. It is hard to find anything laggy in the system, thanks to its speedy 1.2 GHz processor. As we have come to expect from Samsung's OLED displays, the Galaxy S II's 4.3" screen is bright and vivid, though we still prefer the way text renders on a more traditional LCD.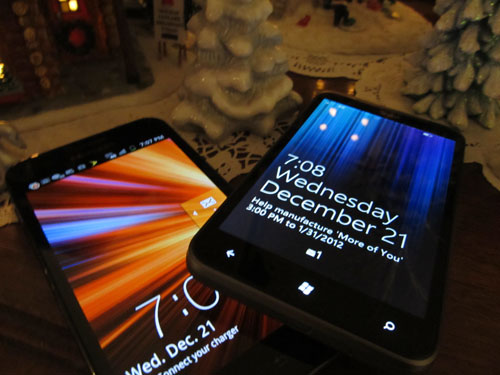 We have previously accused Samsung of being prone to building knock off interfaces that mimic Apple's products, though perhaps one of the most glaring examples of copying concerning the Galaxy S II actually has a different muse: Windows Phone 7. The lock screen mechanism that Samsung uses bears more than a passing resemblance to Microsoft's, including the upward dragging motion necessary to unlock the phone, the style of default wallpaper and even the big, similar humanist san-serif fonts for telling the time.
Such copying doesn't necessarily rain on the Galaxy S II parade for the end user, but does speak to a larger problem that has plagued every Samsung Android device we have tested. Simply put, Samsung's user interface design verges on poor, offering a clunky interface that inconsistently blends custom and vanilla aspects of Android. Unlike HTC's likable Sense interface, little that is specific to TouchWiz seems worth commending, though this year's TouchWiz 4.0 is significantly improved over variants we saw in 2010.
An example of the poor planning is one that carries over from older TouchWiz versions. Every Samsung handset ends up shipping with not one, but two Facebook synchronization connectors. That the account configuration screen lists two different type of Facebook connectors, without any significant description of what differs between the two, surely has confused more than one new Galaxy S owner. Moreover, the Samsung variant refused to sign in to my Facebook account, while Android's default Facebook model logged in just fine. This sort of thoughtlessness in design, quite simply, is unacceptable on a modern smartphone.
One notable exception to Samsung's generally negative contribution to the user interface is in the e-mail program. While Samsung's tweaks are mostly cosmetic, it did take advantage of the phone's large screen to display a two column view in e-mail (enabling it to show the message list and the message itself at the same time) when the phone is in a landscape orientation. The layout is quite similar to what we saw in the original Galaxy Tab 7, only on a smaller scale, and makes a lot of sense for screens in the 4.3" and above range.
On the upside, the Galaxy S II on AT&T came out on top of our voice call quality test, besting the iPhone 4S, the standing favorite in our lab. The Sprint variant had somewhat more distortion in calls, though hardly unacceptable. It landed below the Atrix 2 and Bionic, but above the HTC phones we tested for this piece.
Samsung's phones also topped our camera tests, as our photo samples, below, demonstrate. While color representation was slightly better from the iPhone 4S reviewed in the first part of this series, the Galaxy managed to pick up minute details that were left out of focus on the iPhone. Which of the two is the best overall may be difficult to say, but what is clear is that the Galaxy S II will not disappoint shutterbugs.
Both Galaxy phones offered better than average battery life clocking in at over two days of standby, though the AT&T HSPA+ variant yielded approximately twice as long of run time as the Sprint WiMax edition, though 4G can be turned off the Sprint phone to conserve battery life. We opted to leave 4G on our devices for testing, but real world users may decide it is worth disabling 4G during normal use, bringing the Sprint and AT&T phones more in line on power consumption (Samsung/AT&T, $199, www.att.com; Samsung/Sprint, $199, www.sprint.com).
At press time, Samsung had just announced an official upgrade to Android 4.0 (Ice Cream Sandwich) for the Galaxy S II series. Assuming the upgrade ends up being released as promised, that makes Samsung's offering significantly more attractive and will help keep the phones relevant into the next year. Given that promised Android upgrades have not always arrived in users' hands, this is a potential benefit we remain reserved about for the time being.
HTC

Evo Design

While the name does not exactly roll off the tongue, the HTC Evo Design lives up to its name. The Design's stylish, solid plastic and metal case feels better in the hand than many of the more expensive Android phones – solid, yet not heavy. Of the Android phones we tested this season, this little $99 handset comes out on top with regards to the feel of the fit and finish.

HTC has a long reputation for heavily customizing their handsets, starting with their attempts to add life to the aging old Windows Mobile 6 platform and the early, rough versions of Android. The Evo Design is no exception, sporting HTC's signature Sense skin on top of Android 2.3 (Gingerbread). Android has come a long way since HTC first brought its custom user interface to the operating system, seemingly negating some of the shortcomings HTC originally sought to fill in. Nevertheless, the additions still add to the user experience.

As we have already noted, Android continues to be rougher around the edges than iOS and Windows Phone 7, but HTC's customizations polish away some of the roughness and continue to add thoughtful features. For example, on the lock screen, icons for the e-mail, camera, phone and messaging apps are displayed. If one drags any of those icons to the unlock button, the phone unlocks directly into the chosen application. This is one of the most functional unlock mechanisms we've encountered so far.

The improvements are spread throughout the system. HTC's well-crafted weather application is built in, including a handy, location aware widget that appears when one first unlocks the phone. In the Android e-mail application, HTC has added tabs for unread mail and important messages, helping one to quickly navigate to the most pressing messages. Even the system's pull-down notification display sports improvements, allowing rapid access to quite a few settings and the most recently used applications.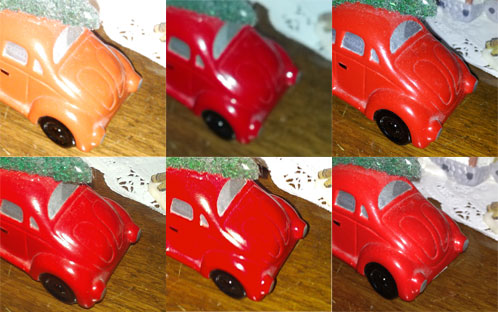 Despite the additions, for the most part, HTC's handset still responds quickly. This is no small feat for a phone that clocks in at just $99 with support for Sprint's 4G WiMax network. We noticed less lag on the Evo Design than on the comparably priced Atrix 2 or the $199 Droid Bionic. Compared to the Galaxy S II on the same WiMax network, the Evo Design performed fine, although the Galaxy S II at one point managed to achieve almost double the download speed of the cheaper HTC phone.
Battery life with 4G enabled is less than stellar unfortunately. While the phone sipped away at its battery while on 3G, enabling 4G WiMax limited battery life to under a single day. This was about half the length of standby time we experienced with the Droid Bionic and about a fifth of the time we saw from the Atrix. Nevertheless, with easy access in the pull down notification menu to disable 4G, many users may find it acceptable simply to switch off 4G most of the time.
Voice quality was somewhat disappointing on the Evo Design, landing last on our list of devices for clarity on calls. This shows somewhat of a disappointing trend for HTC, whose Titan on AT&T fared second worst in the test.
The camera on the Evo Design performed well for its price point, giving better color representation and sharpness than the Atrix 2, for example. However, overly aggressive post-processing appears to degrade many finer details in pictures, preventing the Evo Design's camera from going head to head against higher end phones such as the Galaxy S II and iPhone 4S.
All in all, the Evo Design is a very pleasant phone to use at a very reasonable price. For its price point, HTC has created a delightfully robust contender. Combined with Sprint's attractive unlimited data plan, it represents the best mid-range Android phone we have seen so far (HTC/Sprint, $99, www.sprint.com).
AT&T

Impulse 4G (AT&T)

The Impulse 4G, made for AT&T by Huawei, clocks in as the second lowest priced phone in our buyer's guide, bested only by the iPhone 3GS, which also calls AT&T's network home. Though the Impulse is a new phone introduced just a few months ago, in many ways, it is a peer to the two and a half year old free iPhone, sporting a modest processor, tiny internal storage capacity and the year and a half old Android 2.2 (Froyo) operating system.

Running a relatively uncustomized version of Android, particularly an old version of Android, gives the phone a somewhat plain feel. However, given that many of the additions manufacturers such as Samsung are wont to slap on Android are actually problematic, perhaps a vanilla Android base is actually something worth being thankful for. The phone struggles to smoothly transition between applications at times, but overall avoids ever becoming so laggy as to be frustrating.

Despite being less than cutting edge, the Impulse is a competent performer where it really matters. Voice call quality was better than several of the more expensive phones we tested, including both HTC models that passed through our labs. Similarly, data performance was solid, comparing well to the $99 HTC Evo Design that runs on Sprint's 4G WiMax network.

Unfortunately, the camera quality of the device is not nearly as good. Our test photo, above, shows the difficulty the camera had with exposure control, generating an overexposed and under saturated picture. The results of the camera are usable, but not by any means good.

Nevertheless, if you are shopping for someone who wants to move into the world of smartphones but does not want anything fancy (and, also doesn't want the cheaper iPhone 3GS), this phone is quite decent given its low price tag and actually very good in its core competencies (AT&T, $29, www.att.com).