Nov 12, 2011
With the Kindle Fire's impending release adding yet another interesting dimension to the tablet market, selecting a tablet to give as a gift this season has become all the more complicated. More than likely, Amazon's entry will dramatically change the playing field, but other tablets continue to have significant merits that make them worthy of gifting consideration this year. We look at the cream of the crop of those other tablets in light of the new Kindle, below.
Of the major contenders for tablets at the present time, the strengths and weaknesses are marked enough to make shopping for a tablet a highly confusing experience. Unlike traditional computers, most tablets are relatively fixed and non-upgradable, so the best way to avoid buyer's (or recipient's) remorse is to sort out how the tablet will be used ahead of time.
The Kindle Fire is an enticing choice, but with mediocre specifications, including startlingly limited memory for storing media, it is a choice that should not be chosen uncritically. Amazon is counting on users' reliance on its cloud services – Amazon's cloud MP3 player, Amazon Instant Streaming and so on – to make up for the Fire's Lilliputian storage capacity in comparison to other major tablets. Depending on how well the device works upon release, the Kindle tablet may prove a great choice for those who are always within Wi-Fi range, but the tiny storage capacity ensures headaches for those who would frequently like to use a tablet outside of Wi-Fi coverage.
The matter of Internet connectivity also factors into decisions about the other tablets we looked at. Many users will want to opt for tablets without built-in cellular service, given that most 3G or 4G tablets come with 2-year service contracts as part of their subsidized prices. For example, the speedy Galaxy Tab 10.1 on Verizon's 4G network will set you back at least $30/month for two years at its advertised $529 price tag.
A better alternative for users who will typically be within range of a usable Wi-Fi network when Internet access is needed is to compliment the tablet with a Wi-Fi mobile hotspot capable smart phone – that is, a phone that can share its Internet service with the tablet. True, using one's cell phone to feed the Internet into a tablet is not quite as seamless and does drain the phone battery, so there is value to cellular enabled tablets. Nevertheless, the mobile hotspot option comes at a lower cost and no contract while giving the added flexibility of sharing that network connection with not just one tablet, but any Wi-Fi enabled device. Anyone who will only need to use cellular connectivity every-once-in-awhile will likely find this solution ideal. Verizon and AT&T add $20 onto cellular data plans for 4GB of mobile hotspot access; Sprint asks $30 for 5GB of the same.
Samsung Galaxy Tab 7
Of the major tablets available right now through normal channels this one is the price leader, at $299 as a Wi-Fi only device, $199 with a Verizon 3G contract or $99 with an AT&T 3G contract. The first Android tablet of note is also the best reading-oriented Android tablet we have tested so far (no wonder the Kindle Fire mirrors the 7" size and 1024×600 resolution display). The tablet feels very solid and has a pleasantly textured backing. For a diminutive slab, it feels heavy, but one can grow accustomed to the weight quickly enough.
The Tab 7 uses the phone-oriented Android Froyo or Gingerbread as a foundation. This may sound like a substantial hindrance, although as far as the built in apps are concerned, it never becomes an issue. Samsung heavily cribbed the design of the iPad for the core apps it included, such as the mail application, mirroring Apple's design down to the individual onscreen button locations. While this is clearly the sort of situation that has (legitimately) led Apple to sue Samsung, the end user benefits from Samsung's "reappropriation" of Apple's sensible design.
In many ways, the software of this little 7.0" tablet proves more enjoyable to use than that of its larger 10.1" counterpart, reviewed below. While iOS and WebOS both have superior mail clients to any Android tablet's bundled mail app, the Galaxy Tab 7's iOS clone e-mail app comes the closest to offering a worthy competitor. Moreover, the standard Android hardware buttons and layout are much more consistent and logical than the new, virtual button design used in the Android 3.0 Honeycomb platform that other Android tablets use.
To be sure, Samsung's decision to use a heavily customized phone-based Android base does mean that as more tablet-oriented apps are released this tablet will be increasingly left behind. But, many Android phone apps enlarge gracefully and look quite good on it. Better still, the somewhat oddly proportioned 1024×600 resolution screen provides a much better landscape reading orientation than the normal 16:9 ratio most Android tablets use.
While we maintain that using a tablet as a camera is somewhat of a gimmick, of the tablets we have tested, the Tab 7 is the most practical "tablet camera," given its smaller size. It may actually serve well enough as a camcorder replacement and did produce decent pictures in our testing.
While limited to 3G networks, we found the Verizon version of this device snappy enough for web surfing, checking e-mail and so on. Comparisons to the Kindle Fire are difficult, since we have not tested Amazon's new device yet, but on paper, the year old Tab leads on three counts: 3G connectivity, internal storage capacity (twice as much storage at 16 GB) and microSD support.
On the other hand, those considering this tablet may want to hold off until the Kindle Fire is available for review before purchasing. More than likely the Kindle's lower price tag will, at the very least, drive this unit's price further down. Also, with an IPS LCD and built in support for Amazon Prime video, the Kindle Fire looks to be a strongly superior choice for those primarily wanting a streaming media consumption device ($299; Samsung, www.samsung.com).
Galaxy Tab 10.1 and Motorola Xoom
While the Galaxy Tab 7 seems better suited as a "reader's tablet," the Galaxy Tab 10.1 and Motorola Xoom are the mainstream bearers of the Android standards. Both of these devices run the tablet oriented Android 3.x Honeycomb platform and sport very similar form factors, including 10" 16:9 displays.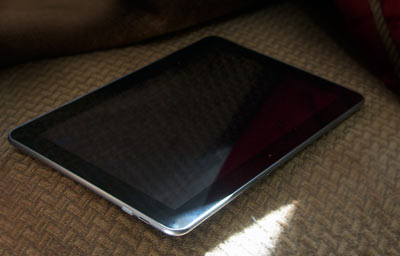 The Samsung Galaxy Tab 10.1 features a sleek, wide-screen form factor.

While both feel very similar, we found the Galaxy Tab more pleasant to hold, thanks to an easier to grip backing. For better or worse, both tablets are almost exclusively oriented to landscape usage. While they can be used in portrait mode, the orientation proves quite awkward, especially for reading, since the text on screen is squeezed into a tall and narrow format. The tablets' landscape focus results in devices clearly better suited to gaming and multimedia than reading, though surfing the web and reading Kindle books is workable enough in landscape mode.
While the Xoom has spent its life so far stuck in 3G-only mode (and that is how we tested it), new units now come with the highly anticipated LTE module preinstalled, keeping the tablet remains competitive with its Samsung Galaxy rival.
The preloaded Honeycomb operating system is a mixed bag in both cases, as we hinted at above. The interface is somewhat inconsistent, particularly when using a mix of phone and tablet applications. Given that Honeycomb drops Android's standard hardware buttons, software buttons on screen are displayed when using pre-Honeycomb apps. This results in a confusing interface, where, for example, menus are displayed on the top of the screen in tablet-oriented applications, but show up on the bottom of the display in phone-oriented apps. The very fact that there are two bars on the screen – one on top, one on bottom – reserved for core system functions speaks to inefficient interface design, exacerbated by the widescreen display that already feels too narrow.
Google urgently needs to refine its tablet operating system experience and help third party developers to do the same. Until then we expect to see more companies follow the lead of Barnes & Noble and Amazon, both of whom have opted to create highly customized Android-derived tablets that bear little resemblance to their standard Android cousins.
We tested the Verizon Wireless versions of the Galaxy Tab 10.1 and Xoom. The Xoom was adequately fast even on 3G for many tasks; while on 4G, the Galaxy Tab was so delightfully fast that one can easily forget to enable Wi-Fi at all (though watch out for data plan quotas – LTE can burn through the cramped quotas still being offered by carriers at an alarming rate). LTE is the killer feature offered by these very similar devices and is enough of a strength to make some of Honeycomb's tradeoffs more forgivable.
As it is, the Xoom and Galaxy Tab 10.1 are primarily interesting for those in the market for their cellular enabled editions. As it stands, the best reason to buy these tablets is that their 4G LTE enabled versions can take advantage of Verizon's incredible LTE network. While AT&T's version of the iPad 2 can take advantage of quasi-4G speeds on Ma Bell's upgraded HSDPA network, the Xoom 4G and Galaxy Tab 10.1 leave Apple's tablet in the dust when connected to a cellular network.
The lack of polish in the interface is highly unfortunate, because the hardware design of both tablets was very good. We found ourselves wishing the tablets were running a different operating system, such as Hewlett-Packard's presently-in-limbo WebOS. Given a more polished operating system, consumers would not be forced to choose between excellent LTE connectivity and an optimal user interface experience.
While LTE redeems these tablets significantly, those opting to buy a Wi-Fi only variant, would do well to look at the remaining two contenders in this piece as better alternatives. Paired with a 4G-enabled phone and Wi-Fi mobile hotspot service, the HP TouchPad or Apple iPad 2 can also enjoy speedy mobile Internet access while rewarding the user with easier, more intuitive interfaces.
The Xoom is a slightly better value spec-wise than the Galaxy Tab, offering a virtually identical piece of hardware with a street price somewhat lower than its Samsung rival. The Tab's main advantage on paper is its superior, 8 MP camera, however tablets make less than ideal cameras, so for most shoppers that advantage should be weighted rather lightly. That said, as noted above, the Galaxy Tab 10.1 is more pleasant to hold and therefore we feel is the better choice (Tab 10.1: $529 as tested; Samsung, www.samsung.com / Xoom: $499 as tested; Motorola, www.motorola.com).
HP TouchPad
Sometimes a product fails for no intrinsic fault – the TouchPad is such a product. HP doomed its fine tablet by pricing it identically to the market leading iPad and shipping it with a debug mode enabled that made its competitively fast hardware crawl. When sales were predictably tepid, HP did not adjust its strategy, it simply discontinued the tablet and slashed the price for the remaining 16 and 32GB units to $99 and $149, respectively. Had HP opted to price the TouchPad a bit more aggressively out of the gate or even simply given it more time to become established, we believe WebOS had a real shot at becoming the second major tablet platform.
Ironically, thanks to fire sale pricing, the TouchPad has acquired a significant user base and one last production run of TouchPads has enabled select retailers to offer another chance to nab the now coveted iPad competitor. This second wave of fire sale devices has been mostly offered in promotional bundles with HP computers thus far (Office Depot plans to offer just such a bundle on Black Friday, for example), but other offers may appear during the lead up to Christmas.
While hard to find, the $149 tablet is not only the cheapest major tablet on the market, it is also one of the best. Simply put: no other non-Apple tablet comes even close to the TouchPad's level of fit-and-finish, with thoughtfully designed, beautiful apps, innovative gesture controls and the best multitasking system in the business. Moreover, HP wisely mimicked Apple's choice of a 9.7" 4:3 ratio display, a ratio ideal for using the tablet in either portrait or landscape mode, the former being best for reading and the latter best for multimedia functionality.
While the TouchPad's application store is much smaller than the stores for iOS and Android, many of the most desirable apps make an appearance on the platform – Angry Birds, included – and most of the apps we tested follow the base system's example to sport clean, beautiful interfaces. The TouchPad has several office suites available, including a weak, but free, suite bundled with the device; includes built-in Dropbox support; and offers the best social information synchronization and merging in the business, bringing together disparate information on the user's friends, business contacts and so forth.
The TouchPad slouches along out of the box, a point that led to many critical reviews of the device when it was first released in July. However, a quick Google search for optimization tips yields information on how to turn off the TouchPad's overzealous logging, resulting in a far more competitive experience. (Why HP did not resolve this automatically in an OS update is a mystery.) After a dead simple tweak, the TouchPad handles browsing even highly complex web sites with ease, multitasks smoothly and, generally, proves a joy to use.
To be sure, there is some risk to buying this tablet given WebOS's murky future. No one knows how many more apps will be released for it given its discontinuation, though HP is actively trying to encourage developers to continue to support WebOS via promotions, and the lure of hundreds of thousands of new TouchPad owners may be enough to keep developers churning out software for the near term. Moreover, if your goal is to primarily surf the web and check e-mail, the $99 or $149 TouchPad is an excellent way to do even if an app store did not exist at all.
You can read more about the TouchPad in Dennis Powell's in-depth story about the device ($149 as tested; Hewlett-Packard, www.palm.com).
Apple iPad and iPad 2
If you have read this far, you already know a few things about the iPad. This is the tablet by which all other tablets must be measured, if only because of its sales dominance as the first commercially successful tablet computer. Both the TouchPad and Android tablets follow Apple's lead in transforming smartphone operating systems into sophisticated tablet operating systems, but no one does that transformation better than Apple.
The iPad is the only tablet we have tested suited to handling most of the tasks the average user would want to do with a full-fledged computer. Android is more flexible, but Apple's iOS 5 manages to bring together an easier to use interface with a more powerful e-mail client, better synchronization of data between the tablet and one's desktop computer and the best battery life of any tablet we tested.
The original iPad (frequently available as a lower cost refurbished option from Apple's online store) and iPad 2 offer an identical user experience. What differentiates the iPad 2 is its faster processor, increased RAM and slightly refined exterior – each of which contributes to an improved user experience – and dual cameras. The iPad's 9.7" display is formatted in a 4:3 ratio, which is significantly better for reading and still works great for video. As noted above, the TouchPad copied Apple's cue on this point – unfortunately the other competitors have not. The hardware feels well balanced in the hand and is more comfortable to hold while reading than the alternatives we tested.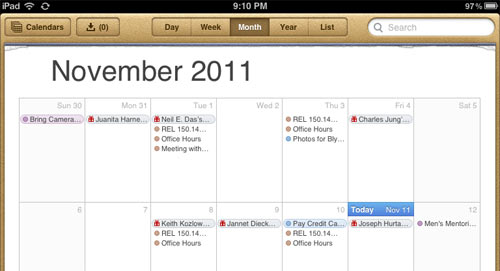 Apple's core applications for the iPad are carefully laid out with aesthetically pleasing visual cues and sensible button arrangements.

Apple's hardware is very well crafted, but the company's iOS platform is the real star of the show. The platform is populated with a very strong set of built in apps and a mindbogglingly large app store. There are far more tablet optimized iOS apps than Android or WebOS tablet friendly apps.
This is no mere statistical point: while Android scales phone apps up to tablet-sized screens gracefully, tablet optimized apps offer a superior experience to even the best scaling job. Simply put, users interact with tablets differently than they do phones – use a tablet for even a short time and this becomes apparent. Ideally, one should aim for a tablet that provides all the apps one needs in tablet-optimized forms.
Apple's Mail application is the easiest to use tablet e-mail app we have seen thus far and, thanks to the iOS 5 upgrade, now offers rich text editing. Notable and new to iOS 5, the Messages app gives the iPad a free, SMS or BlackBerry Messenger-like app that can share an account with a user's iPhone iMessage account and be used to message other iPhone, iPod touch and iPad users.
Best of all, Apple has a track record of providing free major system upgrades to all of its iOS users for at least three years after a device's release. While many of Samsung's and Motorola's Android phones have been left on aging versions of the Android operating system less than a year after their phones' releases, Apple has consistently upgraded older iPhones and iPads to the latest and greatest. Time will tell how Android-oriented manufacturers handle tablet software upgrades, but buyers looking for a sure thing will find the iPad a safer choice.
The iPad comes in Wi-Fi and Wi-Fi plus 3G configurations, the latter offered for both Verizon and AT&T. Verizon, in our findings, remains the network with the best coverage and reliability. On the other hand, given that the iPad does not support Verizon's 4G LTE network, the AT&T variant of the iPad 2 is the only choice for quasi-4G speeds. As noted at the beginning, many will be better off using a smart phone's mobile hotspot functionality with the Wi-Fi only iPad instead of buying one with built-in cellular. This is especially true for Verizon customers, who will want to take advantage of the carrier's LTE network ($499; Apple, Inc., www.apple.com).
Conclusion
The iPad was the tablet that created the "tablet market" of today and, for now, remains the king of the jungle. People who do not require a cellular enabled tablet will find that the iPad provides a better interface, better battery life and more apps than any of its competitors. The iPad offers a nearly perfect user experience and, surprisingly, is priced at a lower no-contract price than many of its competitors. As a potential gift, the iPad is the safest tablet choice; it is almost certainly capable of accomplishing whatever your recipient may want, be it playing games or replacing a heavy business laptop for lighter travel.
The only compromise of note with the iPad is in the area of cellular connectivity. If you plan on giving a tablet to someone who will want cellular support built-in, the two LTE-sporting 10.1" Android tablets offer the best network experience available today. Though Android has a ways to go in the tablet world, Verizon's LTE network alone is enough to make the Xoom and Galaxy Tab 10.1 worth a look.
Timothy R. Butler is Editor-in-Chief of Open for Business.