Jun 29, 2011
I find myself inside a fireworks tent two days before opening at the beginning of the fireworks selling season. In this particular city, fireworks legally go on sale in temporary locations starting June 20 of each year. Sitting down a bit from me on the still bare table is an enthusiastic Chris Sander, the 28-year-old proprietor of Powder Monkey Fireworks (which, he carefully points out, is styled "powder monkey FIREWORKS"). I found myself here on a quest to learn more about how the fireworks business works, though as I listened to Sander's insights, it became clear he was dispensing business wisdom applicable far more broadly than just his own market.
While most of us typically think of fireworks for just a few weeks a year around the time of the Fourth of July, those supplying the fireworks must keep focused on the subject throughout the year. Though the average fireworks tent customer may not think a whole lot about buying fireworks until right before Independence Day – a problem tent operators, such as Sander, want to remedy – the proprietors themselves have plenty to concern themselves with all year long.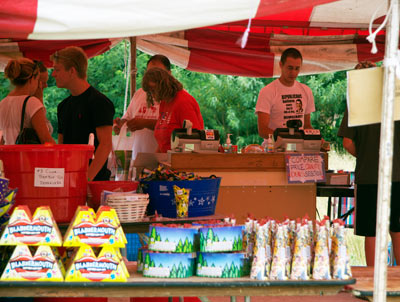 Chris Sander (right) checks out customers at his original tent.

Chris hops onto the Internet six months or more before opening to see previews of new fireworks and then order the product. "The best fulfillment," he explains to me, comes to the orders put in by August or September – a deadline he hasn't been able to take advantage of yet with his still small business, but hopes to meet as Powder Monkey grows. He goes on to highlight a peculiar predicament fireworks retailers face: if he gets his order in too late, and it turns out the factory does not have enough of the items he ordered, they do not bother to notify him of that – they just send him whatever they feel like.
Clearly, this is a business that requires one to be adaptable.
His company, which he started in 2008, is a fascinating study in the business of selling celebratory explosives. First opened in Weldon Springs, MO, a suburb in the St. Louis Metro area, with one modest sized tent, Chris's company grew into a larger tent before expanding this year to three tents. He makes it clear that those three tents are just the beginning: he tells me he wants to change how fireworks are sold in St. Louis. And then, "I want to go all over the country."
It is an impressive goal tied to an impressive small business. One that almost did not exist.
Chris's start in the business, he explains, began before college. He worked summers at a tent of another fireworks vender, Fireworks City. In college, while in a class on entrepreneurship, he wrote up a business plan for selling fireworks. However, he moved onto an internship at Disney World, and not the fireworks business, after graduating. It was not until he happened to see a webcast of the owner of Spirit of 76, a fireworks distributor, speaking at his alma mater, the University of Missouri - Columbia, that his interest in his business plan was rekindled.
The first year of the business involved "going through the motions," he tells me. A careful observer of how businesses run, Chris used the first year to try out ideas he had seen at other retailers and learn what worked well. As he observed other fireworks stands, notably his goal was to imitate while also innovating, primarily by taking the basic concepts of his competitors and then improving them with ideas he could learn from non-fireworks retailers.
He has an especially keen interest in Walmart, the company he works for while also managing Powder Monkey. In an era when most people tend to see Walmart as primarily a threat to small retailers, Chris instead sees the company as an inspiration. When I asked him about whether he dabbles with different pricing during the sales season, he remarked "Walmart did not grow to the size it is by questioning its pricing strategy." He has built his plan squarely on Walmart's mantra: sell low, sell volume.
The behemoth of retailing serves as a muse for many of his ideas ranging from the use of barcode scanners (common in most retailing segments, but still the exception in fireworks tents) to examining how many "touches" a product receives. The latter concept he is especially enthusiastic about: he tells me that Walmart manages to get its product from the manufacturer to its shelves without the individual products having to be handled more than once. As he rattles off the things he and his employees have done with fireworks, he concludes his products have at least 10 touches. Nine too many.
Though fireworks may vary, even as he discusses the concept, I can see him thinking through the different ways he might reduce the number of times the products have to be shifted around before being sold. Citing another company he worked for in the past, swimming pool retailer Leslie's, he noted how they follow many of the same good ideas as Walmart, but like Powder Monkey, they are focused on "selling one thing – and sell it really well."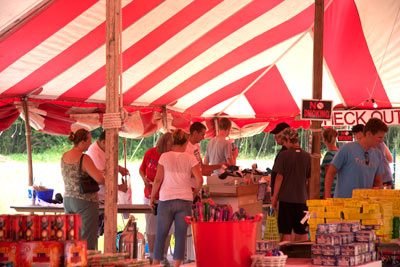 CREDIT
: Timothy R. Butler
According to Sander, the secret to running a good business isn't so much coming up with something no one has done before, but rather taking a good idea someone has done previously and applying it in a new field (in this case, fireworks).
Of course, successfully appropriating ideas from other sectors requires the sort of person who is observant of the smallest details. Part of designing a product, service or store that is really excellent involves all the little details that the normal person doesn't notice, but still benefits from.
As we talked about the tents' design, Chris started motioning to the different sections and describing them as though they were already stocked, noting where each item goes. He explained the tent was set up like a video store: "Here's your horrors, here's your comedies," with products within the "genres" being carefully ordered to make finding them as easy as possible. Not one to leave arrangement to chance, even before any of the products had hit the tables, Sander already had a "planogram," like Walmart or Walgreen's, of products so that he wouldn't even need to be present at a given tent to stock it.
Though clearly any businessperson would be delighted to see his business increase at such a rate, and even more so having succeeded in such careful planning, I noted Powder Monkey's owner was anything but boastful about his current expansion plans.
Though he offered detailed observations of everything from tent rentals and purchasing to inventorying, he shows no signs of feeling like he knows everything he needs to about the business. Instead, he continues to observe other tents, actually stopping by them with his bright red and white Powder Monkey Fireworks shirt on. "I'm not trying to hide anything," he quips, "I have no secrets."
As he talked about this year's multi-tent experience relating it back to his first year of "going through the motions." Realizing this year could be a challenge, he waxed metaphorical, relating a business like his as a marathon: painful, but rewarding to reach the goal in the long run.
In his estimation, getting into business and succeeding is less about having top-secret techniques and more about something as simple as passion. You have to "do something really well" to succeed, he tells me he told a Mizzou class he guest lectured in. "Anyone with a passion can be a business owner."
He emphasizes passion because of the struggles: getting a business off the ground is not easy, he expounded to the students. To build up a business to sustainability, "you have to be willing to eat ramen noodles all year to pay for it," Chris remarks, noting that to grow his business he has had to be willing to put most of his revenue back into the business.
A week into sales, just before this article went to press, Sander gave me a call wanting to offer an update on how things were going with multiple tents. "It is a lot different than working one tent," he offers. I inquired further as to how business was going to which he exclaimed, "I'm ready for more! Might as well have four or five tents."
He quipped that, "as I should have been doing the first year," he had been price shopping other tents around his new Arnold location and remarked they were quite different from what he was used to in Weldon Spring. He gleefully observed that the other tents in Arnold were "two – maybe three – times more than my prices," when I inquired how the prices differed there. "It'll be interesting to see how they respond in a few years with my tent there," he added.
As if his excitement about Powder Monkey did not make it obvious, as we had sat in the partially arranged tent the week before, he commented he had "lots of enthusiasm" for his line of business. That much is clear watching the excited glint in his eyes on any given night towards the end of business hours, when he is wont to take a stack of assorted large fireworks and shoot them off in a field near the tent.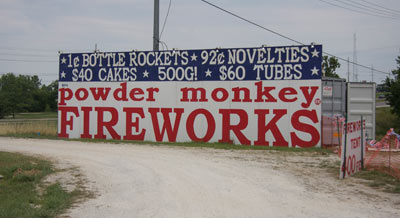 CREDIT
: Timothy R. Butler
He shoots them off so his employees can observe them and customers can get ideas on what to buy, yes, but he also clearly enjoys it. He also observes that the fireworks sometimes sound different when he goes to see demos or does his own demonstration for his staff in Columbia, MO, so he finds it helpful to shoot off new fireworks in a single, more normal location to get a feel for how they compare.
His love of things explosive has a family story to back it up. Sander's family was involved in civil war reenactments with a workable cannon as he grew up and his role in the family pastime was to be the "powder monkey" – the person who carries the critically needed gunpowder for firing the cannon.
He sees his business as an opportunity for customers to share memories of fireworks from the past and create new memories. Like the powder monkey role he had as a kid, he now sees himself focused on taking "fireworks to people who need it," helping them prepare for what he designates "the best time of the year," the Fourth of July.
The fireworks business is not merely a business for Chris, but something personal.
Unapologetically patriotic, he offers special discounts to those serving the country and has, for several years, made a small firework in the likeness of terrorist Osama bin Laden a freebie for his customers who signed up for a mailing list the prior year. When the infamous bin Laden was killed earlier this year, Sander quickly put in an order for more of the terrorist's namesake firework, not wanting to run out. He smirks as he describes the firework; "his head blows up."
And that may explain why right now, while many owners and workers at fireworks sellers are probably worn out from preparations for this Fourth of July and simply wanting to survive the rush of the next few weeks, Chris is already laying out plans for the 2012 season. "I'm excited about next year."
Of course, this year is not yet past and so those looking for fireworks for this season in the St. Louis area should consider stopping the first beachhead in what may become a fireworks empire. Those elsewhere in the country may just need to be patient. If Chris's plans are any indication, his arrival will be only a matter of time.
Timothy R. Butler is Editor-in-Chief of Open for Business.