May 23, 2011
Last year, choosing a cellular network for a smartphone was easy enough: pretty much any phone you might buy was a "3G" capable one and, for the most part, the speed those phones achieved on their respective networks was about the same.. Today, all four of the big cellular companies are proclaiming the arrival of 4G phones. In this series, we will be looking at the latest and greatest phones to hit the market and examine whether they live up to the hype, starting with the first nationally available 4G LTE phone: the HTC Thunderbolt.
The phone itself is an attractive, albeit in a quiet sort of way, physical keyboard-less Android phone in the style of the HTC Droid Incredible and most of the Samsung Galaxy S phones. Like the other HTC devices we have seen in recent times, the display is a beautiful, relatively high resolution 480×800 screen. Because the phone is larger than the HTC Droid Incredible it in many ways is the rightful successor to, the pixel density of the Thunderbolt's screen is lower than the Incredible's (and quite a bit lower than the iPhone 4's "retina display"). Nevertheless, the color and clarity of the screen were delightfully good and the size comes in handy for viewing photos or other multimedia.
Like most recent Android phones we have tested, the Thunderbolt comes with a speedy 1 GHz processor that was able to deftly handle any task we threw at it.
The plastic casing of the phone feels comfortably "grippy" when being held and the overall design aesthetic manages to make the Thunderbolt feel less bulky than other large Android phones, such as the similar Motorola Droid X. Everything is ordered as we have come to expect with HTC's excellent phones.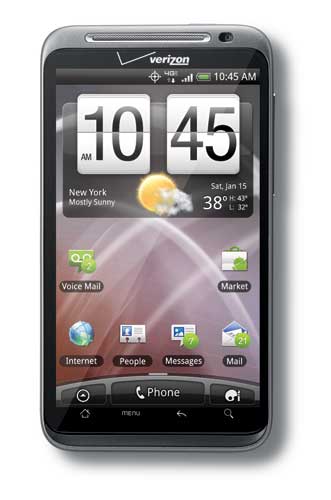 The
HTC
Thunderbolt (SOURCE: Verizon Wireless)
As nice as all of those details are, the real hardware attraction with the Thunderbolt has nothing to do with the normal hardware specifications, but the addition of an LTE radio. When we first previewed Verizon's LTE network last fall, the new network was only available using a variety of USB "dongles" or modems that provided high speed Internet for a laptop or other personal computer. And, as we saw, Verizon succeeded in delivering incredibly high speeds – even compared to cable and DSL modems. To some extent, the idea of a 4G smartphone seemed almost overkill: could a phone really make much use of the increased speeds?
The simple answer is: yes. The Thunderbolt lives up to its name, speeding by every phone we have tested so far, including the other 4G phones that will be appearing in this series over the next few weeks, as well as many wired Internet services. In upload tests, we were able to reach truly insane speeds of up to 40 Mbps when testing against a server that had plenty of bandwidth. Download speeds were (oddly) often more modest, but still competitive with wired connections, clocking in at up to 20 Mbps.
That we were able to achieve such speeds speaks well of the phone's ability – even many current cable modems are technically unable to reach beyond 75% of that speed – but more importantly to Verizon's network. Simply put, no matter how capable the phone, or even the cell tower, if it is not backed up with a very large backend connection, the latest 4G phone can crawl like 2G phones from six or eight years ago. Verizon continues to wow our Labs with consistently strong backhaul lines that keep its latest and greatest network able to do more than just sound good. (This is not universally true of currently advertised 4G networks.)
The practical question is: does this even matter? In real life, people do not generally download huge files on cell phones. But, the advent of connectivity of this caliber via a wireless network continues to increase the attractiveness of storing data in the cloud. For example, cloud based services to store one's music become a whole lot more convenient when one's Internet connection can glide through the library at these sorts of speeds. Verizon's LTE network makes a future where even most multimedia is synchronized between one's phone and computer over the cellular network eminently practical.
More directly relating to everyday use in the present, the speeds we observed with the Thunderbolt really shine with services such as Dropbox. While we have noted previously how Dropbox is a very useful tool for accessing one's documents on the go, and it works fine on 3G, it becomes eminently more pleasant to use when most files load nearly instantaneously.
In short, Verizon's LTE network makes it possible for sites, videos and other documents to flash onto the screen rapidly, blurring the distinction between what is stored on the phone and what is remote. The beauty of 4G is that you forget you are using a cellular network.
There are, as always, tradeoffs. In our tests, battery life was somewhat variable, but data usage took a significant toll, a reminder in an otherwise exceptional experience that 4G is still a young technology with some maturing to do. This is not the sort of phone that is ideal for the person who wants to charge his or her device once a week, but the Thunderbolt was able to get through a work day OK.
Software-wise, HTC remains clearly ahead of Motorola and Samsung. While the Samsung additions are essentially attempts to clone Apple's iOS (with varying degrees of success), HTC has continually impressed us with thoughtful, useful additions that manage to improve the phone experience.
Simple touches such as HTC's signature location aware weather widget (which seems to be far better at updating locations and information than the weather widgets on other Android phones) and the handy merged feed of Twitter and Facebook shows that HTC understands something most companies do not: details matter. Perhaps our favorite addition is to the email client, which has quick access options for viewing messages from favorite senders, unread messages and so on.
Voice calling on the Thunderbolt was of good quality. While not quite as natural sounding as its AT&T sibling, the HTC Inspire 4G, the quality was still perfectly acceptable for normal usage. More importantly, the Thunderbolt is the first phone on Verizon's network to offer the ability to use voice and data simultaneously, an incredibly useful feature for when one wants to look up a piece of information while on the phone.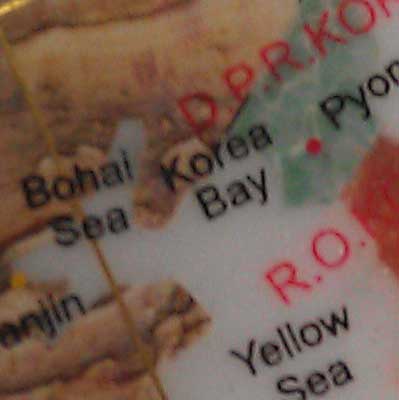 A 100% crop of a macro shot.
The phone's camera was also of laudable quality. We tested it in a variety of lighting situations and found it handled all of them capably. The Thunderbolt managed to adjust exposure when using the flash more accurately than most phone cameras, and even did a remarkably good job of recording details of macro shots. Daylight color saturation was excellent. The 100% crop sample on the left is a good example, showing that even at full size, there is good detail and low levels of noise (compare this to your average point and shoot — the Thunderbolt will hold its own).
To say this is the best Android phone we've tested so far would not be a stretch. The Thunderbolt has few weaknesses, and even the rate of battery drain should be acceptable for most users. Is it enough to make normal iPhone users jump ship? No, not necessarily; iOS still has the edge on interface design and app availability.
However, it is hard to think of many reasons Android users, particularly Verizon subscribing ones, should not seriously consider moving to the Thunderbolt. The present, low street price makes the phone almost irresistible. Any user needing the fastest possible speeds from a phone will want to give the Thunderbolt a serious look (HTC/Verizon Wireless, $129, www.vzw.com).