Dec 22, 2010
Last week, we looked at some of the most recent and interesting Android phones available this Christmas. But, of course, Android is not alone when it comes to smart phone platforms and today we have excellent contenders from the Windows Phone, BlackBerry and iOS camps, along with a handy little 4G Wi-Fi router from Clear.
The
HTC

Surround (AT&T)

In the midst of several mature, successful phone platforms – most especially, Android and iOS – it is a challenge to offer something that is both compelling and different. Microsoft faced that dilemma as it sought to "reboot" its Windows Mobile platform that had been largely left behind in the age of touch screen oriented phones.

Unlike RIM (see below), Microsoft decided to favor a firm break with the past rather than continuing to build iterative improvements. In addition to abandoning the old style Windows Mobile design, Microsoft also departed from some of the newer conventions that were established by iOS and adopted in Android and WebOS. When you pick up a HTC Surround or other Windows Phone 7 device, you quickly realize it is a design that is uniquely its own, much as the iPhone's design was in 2007.

The Surround is impressive hardware wise, with a very sturdy, robust case and a beautifully vivid 3.8" display. HTC has historically produced some of our favorite hardware designs and the fit and finish on the Surround seems to indicate they are continuing the trend. The Surround is a slider of a curious sort: instead of a slide out keyboard, the phone slides open to reveal a surround sound speaker with the typically impressive SRS WOW audio enhancement software built in.

In the most positive of ways, the Surround reminds us of what we liked about the ill-fated KIN Two, which we looked at last summer. Microsoft's KIN line died a quick death due to the severe limitations on the platform, however we had appreciated its smart and decidedly different user interface. Windows Phone 7 takes the most appealing visual aspects of the KIN, as well as the KIN's tight integration with Facebook, but implements them in a far more polished and robust way.

The Windows Phone interface is, at once, both organic, responding with smart visual cues such as lists "squishing" when one tries to scroll beyond the end of the list, and also starkly modernist. The design rejects the photo realistic icons that are common to other platforms and instead is made up with geometric shapes, bold text and largely monotone or limited color schemes. While not necessarily beautiful sounding, in practice, the design is both elegant and easy to interact with.

Thankfully, after years of being tied to horrible mobile browsers that, at best, could be used to download an alternative Windows Mobile web browser, Microsoft has finally included a version of Mobile Internet Explorer that is quite good. Pinch and zoom, intelligent tapping zooming on blocks of text and other similar tricks worked very well – better than on any other platform we've tested, save for Apple's. Likewise, a new e-mail client, while minimalist in design, provides easy access to messages and a convenient way to quickly display only unread or urgent messages.

Unfortunately, Windows Phone is still weak in a number of areas. First, while the new web browser is greatly improved over previous iterations of Mobile Internet Explorer, the browser is still generations of development behind the WebKit browsers of iOS, Android and WebOS – or even BlackBerry 6. When we tried to bring up pages using the latest CSS3 standards that many mobile sites are now utilizing, Internet Explorer choked while the other major phone platforms all rendered the pages without issue.

Similarly, the delightful simple e-mail client is a little too Spartan in a few areas. We would really like to see a fully integrated universal inbox, providing a single location to view messages from all of one's e-mail accounts. Better yet, given Windows Phone 7's tight integration with Facebook, we would like to see Facebook message integration in the inbox, ala Motorola's universal inbox on Android.

Call quality on the Surround was exceptionally good. We also found reception to be strong, though some of this may be a testament to the vastly improved network AT&T has built over the last few years. Battery life in both general usage and calling also was quite good.

Due to some technical difficulties with the account associated with the phone AT&T lent us, we were unable to test third party apps for Windows Phone or some of the included features, such as U-verse Mobile. However, we hope to do a follow up once this issue is resolved.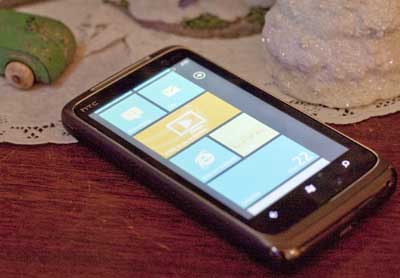 The

HTC

Surround on the Windows Phone 7 launch screen.

The camera on the Surround was good, even in low light, though the two other phones in this review, the iPhone 3GS and BlackBerry Torch, both had better color reproduction. The Surround did stand out for its excellent autofocus that produced, in the right conditions, the best macro shots we have seen on a phone camera. The interface for the camera deserves mention, as well. Microsoft applied the "flick" gesture used to flip through captured photos to the live capture view as well, allowing one to flick directly from the live camera to the review roll and back as if the live view were simply the most recently captured photo. The interface, combined with responsive hardware, made achieving impressive results a snap.
To whom you should give this phone: Those whose primary interest with a phone revolves around social networking-related communication will love the tight Facebook integration on the device. Likewise, anyone who loves to try new things or wants a phone that is simply different (without compromising on usefulness) will appreciate the HTC Surround. This is perhaps the best overall phone we've tested in the last few months.
Other models you should consider: The iPhone 4 is the closest competitor in terms of providing a smooth, well-sorted smart phone experience. Amongst Android phones, HTC's aesthetic sensibilities with devices such as the Droid Incredible offer the closest level of polish to Microsoft and Apple offerings (HTC/AT&T, $199, www.att.com).
BlackBerry Torch and Storm 2 (AT&T and Verizon)
RIM has been pursuing something of an interesting strategy with its BlackBerry phone line. Two years ago, it introduced the first touch screen BlackBerry, the Storm, to Verizon exclusively, followed last year by another Verizon exclusive, the BlackBerry Storm 2. The Storm line has been a tempestuous one, given its unorthodox "SurePress" screen that requires one to click the touch screen rather than just tapping for actions such as typing on the onscreen keyboard. Interestingly, while the Torch's interface moves further towards touch oriented design, RIM backed off from its more controversial choices from the Storm line and included a slide out mechanical keyboard and an optical track pad, creating a hybrid between the Storm and non-touch devices such as the Bold.
Hardware wise, both are nicely built, solid phones. While not as solid feeling as the latest offerings from Apple, Samsung or Motorola, the phones ought not to be underestimated. We especially like the Torch's design and its slide out keyboard has a very satisfying locking mechanism that is superior to its main vertical sliding competitor, the Palm Pre. While we prefer the horizontal slider on the Droid 2, the keys have a very satisfying "clickiness" when typing.
RIM's big challenge in designing both of these phones was to somehow hold onto the elements that made the BlackBerry famous – namely, push e-mail and excellent keyboards – and translate them into the current era of smart phones, where touch screens are a must. The BlackBerry 5 OS that powers most current generation BlackBerries, including the Storm 2, sadly falls short at realizing this challenge. While the software is ostensibly designed for touch screens, like the Windows Mobile platform prior to the reboot this fall, BlackBerry 5 feels like it has been left behind in the rapid transitions of the last few years.
BlackBerry 6 improves significantly in this respect. We found that many of the platform's buttons seems to have been enlarged for easy tapping and transitions between tasks run more smoothly. Moreover, the platform's core applications – such as the web browser – have received much needed attention. Whereas the BlackBerry 5 browser was the worst web browser we tested amongst smart phones for speed and compatibility (other than that used by the KIN), BlackBerry 6's browser is based on the same WebKit core that powers the two best mobile browsers available: Apple's Mobile Safari on iOS and Google's Android web browser.
We also appreciate that RIM has spent time creating a universal social networking hub. Events occurring on Facebook and Twitter were integrated nicely with e-mail, offering an even more centralized way of viewing one's communications than offered by Motorola's excellent additions to Android.
We hope this OS upgrade is offered eventually for the BlackBerry Storm line, although a Verizon spokesperson was unable to provide us with any upgrade plans. If BlackBerry 6 were offered, it would greatly increase the value of the aging Storm 2, which is much more modest in specifications than the iPhone 4 and Galaxy S phones it is priced to compete with.
All is not perfect with the Torch's BlackBerry 6, however. While BlackBerry 6 makes great strides, the platform is still behind in significant respects. The aforementioned web browser lacks the ability to intelligently zoom in on paragraphs of text, a critical feature for easy mobile web browsing; pinch and zoom functionality is also rather choppy. Moreover, BlackBerry's e-mail client, despite being the platform's strong point in as much as it offers RIM's signature real time push notification, remains extremely anemic when dealing with the IMAP e-mail accounts used by many service providers. Messages deleted on one's computer are not removed from the device, read status is not synchronized with the server and so forth. Finally, while the design of the UI has improved in its friendliness towards touch, on the Torch, we still found it necessary to resort to using the touchpad at times when options were hard to tap with fingers.
RIM also faces a major hurdle with third party applications that are still tied to the pre-touch screen era, with dated interfaces that often are hard to manipulate using the touch screen. Apps such as the one from Facebook are much less polished on BlackBerry OS than on iOS or Android.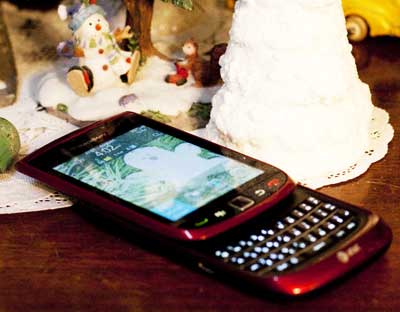 The Torch with the keyboard opened.

One shining feature we found with the Torch was its camera. While most of the camera phones we have tested in recent times have acquired a flash, few of them deal very well with the necessary exposure adjustments needed to produce good flash photography. The Torch is an incredible exception, producing very fine, highly detailed photos even in very poor lighting. Close ups with the flash generated vivid, clear shots easily toping most, if not all, of the phones that have passed through our labs. That said, the interface was not as intuitive or responsive as that of the HTC Surround, making taking great shots a bit more challenging.
To whom you should give this phone: Some people are not ready to give up their BlackBerries, even though iOS and Android are significantly ahead of RIM's platform in features and applications. For these folks, the Storm 2 and the Torch represent the best options available, and the Torch's hardware and improved BlackBerry 6 OS make it relatively compelling. Shutterbugs may find that the camera's output serves as something of a solace for other weaknesses.
Other models you should consider: the iPhone 4, Motorola Droid X and several Galaxy S models are all priced at the same $199 point while offering superior functionality. The HTC Droid Incredible, for $50 less, also should be considered (Torch from RIM/AT&T, $199, www.att.com; Storm 2 from RIM/Verizon, $199, www.vzw.com).
iPhone 3GS (AT&T)
Though now hidden in the shadow of its faster, sleeker successor, the iPhone 4, the current low-end iPhone continues to be an excellent choice for the budget minded phone shopper. Just like the iPhone 4, the 3GS runs the latest iOS 4.2 operating system and does so without any sense of slowness. Though it is a year and a half old, the 3GS continues to handle tasks briskly, frequently with adroitness other (technically faster) phones simply cannot achieve.
Android has come a long way towards maturity over the last year, but iOS continues to hold an edge in a number of areas. Apple's mail program is friendlier and easier to navigate, the iPod application is significantly more sophisticated than the Android equivalent and the soft keyboard is significantly more accurate. Best of all, iOS offers not merely the largest app store amongst mobile phones, but the largest collection of highly polished applications.
The fact that the 3GS runs the latest iOS 4.2 and runs it well is also a testament to Apple's development model. While Android phones that are less than a year old are already facing obsolescence, without a clear roadmap of Android updates (such as the newly released Gingerbread) being offered for them, Apple has consistently ensured that its devices are able to benefit from three years of system software upgrades before reaching the end of the update road.

The Surround (left) produced a clear, sharp picture. The BlackBerry Torch (middle) had more accurate color reproduction and also produced a crisply focused shot. The iPhone 3GS (right) was more challenging to achieve a sharp shot with, since it had to use a slower shutter speed to compensate for the lack of flash, but it was similar to the Torch in color saturation.

While those considering higher end devices really should take a look at the impressive iPhone 4, which offers some deeply appreciated upgrades over the 3GS, the fact that the older model still competes so well with today's devices speaks well of it.
To whom you should give this phone: The first time smart phone user or other undemanding users who have minimal storage space needs, but would appreciate a smart phone with an extremely easy to use interface and elegant design.
Other models you should consider: The iPhone 4 essentially offers the same benefits as the 3GS, only significantly enhanced. On the Android front, we would recommend considering the HTC Droid Incredible, which is an able competitor (Apple/AT&T, $99, www.apple.com).
iSpot (Clear)
Amongst wireless providers, Clear is something of an unknown. The 4G network operator is 51% owned by Sprint and is the company responsible for Sprint's continued 4G rollout. However, in addition to providing Sprint's WiMAX service, consumers can also get a variety of services directly from Clear. One of those services is the iSpot service and router, meant specifically for iOS users.
The iSpot is a lightweight, sleek, little portable router similar to the MiFi in that it connects to a cellular network and broadcasts a Wi-Fi signal compatible with any sort of Wi-Fi device you may want to throw at it. However, unlike some other, similar 4G routers, the iSpot is unable to receive a handoff to a 3G network when 4G is unavailable. Moreover, the iSpot is designed to work only with iOS devices (iPads, iPod Touches and iPhones).
With all of these limitations, it might seem odd that anyone would want an iSpot, but the little device is actually quite interesting for one simple reason: it offers an extremely affordable, no-contract, unmetered plan. Unlike other 3G and 4G router plans offered by the major providers, the iSpot costs just $25/month to use and can be suspended at will, without the usual two year commitments that are required by other providers. If you know someone who would like to have 4G access on one of Apple's iOS products – and the person has little need to use that access on a laptop or other non-iOS device – this little router makes a great gift that does not burden the recipient with a huge, long-term monthly fee.
Moreover, like Clear's other products, the iSpot is rather attractive for offering unlimited access at a set price. Whereas Verizon's 4G network "meters" the service, charging overage fees if one exceeds a set amount of data (5GB in the $50/month plan), Clear's plan is "all you can eat," like a home DSL or cable plan. The speed at which bandwidth can be consumed over 4G makes this unlimited plan especially nice.
And, speaking of speeds, the iSpot performed ably in testing, offering near 6 Mbps – faster than many DSL connections – when the signal was strong. Moreover, within good coverage areas, the iSpot worked great while on the move, allowing us to use an iPad, without its optional 3G service enabled, to look up points of interest as we traveled about.
Unfortunately, the major downside we found to Clear's service was that signal strength was often weak in our test area, leading to poor speeds or no connectivity at all. This is more a reflection of the still limited bounds of 4G networks, rather than a fault with the device. However, it serves as a cautionary note, emphasizing the need to check the service area of the person you are giving the device to before picking one up.
To whom you should give this router: Anyone who has the need to use an iPad or iPod Touch away from his or her home, office and regular Wi-Fi hotspots. The iSpot also works on the iPhone and may be of interest to those who would rather get a small 3G plan for AT&T and rely on faster Clear 4G service for most data-related needs.
Other models you should consider: For those needing breadth of network coverage over speed, the Verizon MiFi is worth considering. Also, many of the best phones available now, including the Droid 2 and Galaxy S models we reviewed the other day, offer a Wi-Fi hotspot capability internally. Those who will only need to share cellular access to a non-cellular device occasionally or rarely will likely benefit more from one of those phones instead of a dedicated Wi-Fi router (Clear, $99, www.clear.com).