Dec 21, 2010
A Medley of Gift Ideas
Looking for some last minute gift ideas? OFB's editors reveal some of their favorite, eclectic gift ideas, most of which can be purchased locally or are still possible to obtain online in time for Christmas.
Mystic Monk Coffees and Gifts
Being a coffee addict and knowing mostly coffee addicts, this year I'm giving gifts from Mystic Monk Coffee, which offers a range of very good coffees as well as related implements and, even, clothing. One of my favorite items from them is the "Double Handled Mug," which is inexpensive — all they have at the moment are seconds, but that's fine — which are okay for coffee but even better for hot tea or cider with a pinch of cinnamon on a cold winter's night.
The Carmelite Monks who roast and package the coffee also offer a selection of gift sets, my favorite of which includes a CD of Gregorian Chants. A plus, to me, is that getting products from them supports their new monastery project.
-Dennis E. Powell
Giotto�s Large Rocket
Giotto�s line of �rockets� are hand powered dust blowers. Though that might not sound like the makings of the most exciting Christmas gift in the world, one should not underestimate just how useful the Rocket is. The device, made out of a long plastic neck attached to a genuine rubber bulb you squeeze, is able to blow an extremely powerful stream of directed air wherever unwanted dust is wedged.
The Rocket is primarily marketed towards photographers and is a perfect addition to anyone�s camera kit. Unlike cans of compressed �air,� the Rocket blows simple, clean air that will not deposit moisture (or leave problematic residues). This makes it far safer to use for cleaning lenses, DSLR sensors and other delicate equipment than a cleaning cloth (even the best of which can leave scratches) or the aforementioned, overly moist cans of compressed air.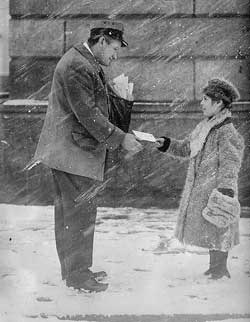 A Letter for Santa (circa. 1910).
SOURCE:
LOC
/Bains News Service
But, Giotto�s Rocket is also a perfect gift for people on your list who are not photographers. The Rocket can get stubborn dust out of collectable figurines, electronic gadgets, silk flowers or pretty much anything else. While your recipient may look oddly at the gift initially, get them to try it on something dusty and they�ll soon be looking for dust (Giotto, $15 on Amazon, www.giottos.com).
-Timothy R. Butler
A Flapjack Breakfast Kit
I have always been a big fan of pancakes, but my tastes are by no means typical. Instead of syrup, though, I prefer peanut butter and jelly. On any given morning, you are likely to find the following items — not just any old pancake mix or peanut butter and jelly — on my breakfast table. Put these items together into a basket and you�ll positively delight your recipient�s taste buds.
I start with Kodiak Cakes Whole Wheat Oat and Honey Flapjack Mix; these are not just pancakes, but real flapjacks. If you don't know the difference, you are missing out on something great. This mix is simple to use, just add water. This is followed by Arrowhead Mills Valencia Peanut Butter. You probably didn't know it makes all the difference in the world which peanut is ground up for peanut butter. Valencia peanuts have a superior taste. I prefer crunchy. Finally, I recommend Helios Jams from Spain. It is possible you won't find this locally, but I pick mine up regularly at my local Big Lots store. Try the raspberry.
From the moment I put the pan on the heat and start mixing the flapjack batter, it's only about 15 minutes until I'm digging in. One plate-sized flapjack, slathered with a little peanut butter and topped with some tart jelly — I'm in breakfast heaven.
-Ed Hurst
Kaleidoscope Heart
Music always makes a good gift, especially if you know the taste of the person you are shopping for. However, if you only have a rough feel for the preferences of the person you are shopping for, consider Sara Bareilles�s 2010 release, Kaleidoscope Heart. With songs that reflect musical textures of the various eras from the 1950�s to the present decade, Bareilles has crafted an album that should appeal to a wide variety of music lovers.
Heart represents a very mature, even style, with upbeat and moody tracks interwoven into a surprisingly cohesive whole. Bareilles�s gift for writing smart, well crafted lyrics allows her to fuse a strongly poetic feel to the musically catchy tunes of this unusually good sophomore album. Last minute shoppers may want to consider gifting the MP3 version of the album, available on both iTunes and AmazonMP3 (Epic, $7.99 on Amazon, www.sarabareilles.com).
-Timothy R. Butler
Also check out some of our ideas from this feature last year, all of which continue to be excellent gift ideas in 2010.