Aug 26, 2010
Since Motorola's Droid first arrived last year, the Droid fleet has been expanding at a dizzying pace. Now, just months after the excellent HTC Droid Incredible showed up, Verizon and Motorola have unleashed the Droid X and Droid 2. Over the last few weeks, we put the Droid X through a grueling variety of tests to find out if this mammoth phone has what it takes.
One of the obvious questions to ask about this device is what it brings to the table over and above its stable mate, the Droid Incredible. The Incredible is the obvious phone to compare it to, since they both are keyboard-less, unlike the Droid 2. Why offer two remarkably similar, soft-keyboard Android phones – for the same price even?
The first and most obvious reason becomes apparent if you look at the two devices side-by-side: the Droid X is, well, large. The whole concept of the ever shrinking phone that was so stylish five or ten years ago is totally thrown out the window with the new penchant for large Android phones like the Motorola Droid X and HTC Evo 4G. On the other hand, the 3.7" display of the Droid Incredible is hardly cramped yet is more "normal" in appearance (and feeling).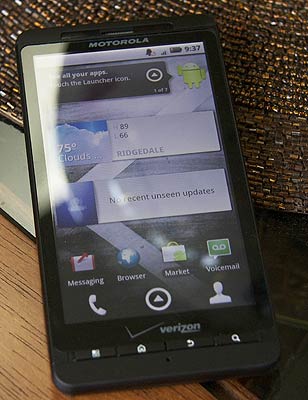 The Droid X is sleek and refined in appearance.

Essentially, which is right for you depends on the way you use the phone. The Droid Incredible and Droid X have the same resolution (480×800), meaning that the Droid Incredible has a somewhat higher density (252 ppi vs. 216). This, in turn, produces sharper text. Neither matches the iPhone 4's incredibly sharp 326 ppi "Retina Display," but both are still very respectable and significantly better than phones from even a few months ago.
Both the Droid Incredible and Droid X are good at viewing media, but this is where the two phones most clearly part company. The Droid X's spaciousness makes for an absolutely stunning presentation – looking at photos or video on its screen is something one can get use to very quickly and makes smaller phones such as the iPhone or Incredible seem downright tiny. Whenever Netflix support is added to Android, the Droid X will be a perfect viewing device for it. Combine the display with the tasteful 3D presentation of one's photos on Android 2.x and it is hard to stop flipping through photos and admiring just how beautiful they look.
All in all, the screen size issue boils down to a matter of personal preference. We think that a slightly smaller screen is more comfortable to talk on, but the Droid X's size is quite easy to get adjusted to and certainly is enjoyable for other purposes.
Build quality is also an interesting point of differentiation between Motorola's Droid X and HTC's Incredible. Motorola continues a theme of building devices that are heavier than average, but are also amongst the sturdiest feeling units to have passed through OFB Labs. HTC is no slouch in this department, but we really like how substantial the Droid X feels.
Software is where the Droid X ultimately is the most different from its recent Android siblings. Thankfully, Motorola has dropped the ugly Motoblur "skin" that it had placed on top of Android on almost its entire lineup, save the original Droid. At the same time, a few features we enjoyed with Motoblur, especially the unified social networking and e-mail inbox, are present on this phone. We continue to prefer HTC's Sense UI, which does an amiable job of raising Android's level of polish closer to that of iOS devices, however. This situation harkens back to the Motorola Droid and HTC Droid Eris pair from last fall: while the Droid was ostensibly the higher end device, the Eris was more polished.
This could sound too harsh: the largely stock Android that one finds on the Droid X has progressed significantly in fit and finish over the year since the original Droid was released. While Android remains rougher around the edges than Apple's iOS, it is satisfying enough and still vastly ahead of current Windows Mobile or Blackberry devices on this count.
In usage, the Droid X works as well or better than we expected on almost every count. Call quality was clear and reliably strong, as we have come to expect in recent years on Verizon's network. The speakerphone was perhaps a little quieter than the Incredible's, but still very usable. 3G data reception was exceptional, providing better-than-basic DSL speeds even when we tested it tucked between Ozark Mountains in Southern Missouri.
Perhaps the piece of hardware that shines most on the unit is its camera. The camera produced very satisfying images at 8MP. In most conditions, we found that the camera performed similarly to a decent point-and-shoot, producing crisp, highly saturated pictures that are more than suitable for printing even at relatively large sizes. JPEG compression is visible when viewing photos at 100%, but given the 8 MP sensor, photos will rarely need to be viewed or used at full size.
More notably, the phone also created stunningly good 720p video, both in and out of doors – so good that the Droid X calls into question exactly why most people will need to lug along a camcorder to capture family videos going forward. It is that good. The experience is also made better by the device's size – not only, as noted above, because it provides a screen sized so perfectly for photo and video viewing, but also because it is great for grasping with two hands to produce a very stable shot in low light.
Our only major complaint with the camera was that it was slow to start up, reminiscent of digital cameras from several generations ago. Typically, cell phone cameras are slow at startup, but this one seemed slower, especially in contrast to the iPhone 3GS or 4's cameras, both of which have very rapid startup in iOS 4.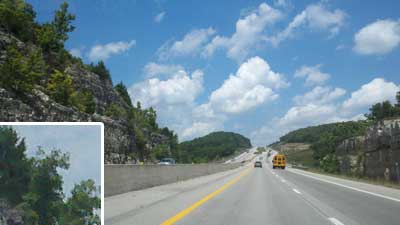 A shot from the Droid X's camera along with a 100% crop of a portion of it.

JPEG

compression appears relatively heavy at 100%, but at smaller sizes, quality is high enough enough for printing.

Another notable feature of the Droid X is that it is only the third device in Verizon's lineup to offer mobile hotspot functionality (sadly, Verizon has so far declined to say whether the Droid Incredible will gain support for this feature). Like tethering, this allows the phone to share its Internet connection with other devices, but unlike tethering, it basically becomes a small Wi-Fi router, providing that connectivity not just to certain devices, but to any Wi-Fi enabled device. The Droid X handles this task beautifully, transmitting fast 3G connectivity to other devices with ease.
We would rate this head and shoulders above old-style tethering such as the iPhone supports. Incidentally, it works nicely with the iPad, providing speedy 3G coverage even in areas not covered by the AT&T 3G network natively supported by higher end iPad models. While Verizon's Palm webOS devices seemed to make setting up the Wi-Fi hotspot a bit more of a refined experience, Android's hotspot tool is still easy enough.
The Droid X is one of the most substantial phones ever produced. Packed with the latest technology, a beautiful and huge screen, and excellent build quality, there is a lot to like about this device. While it is not a clear win over the identically priced Droid Incredible, perhaps having two similar, but differentiated handsets like this shows some of the advantage of Android's openness: the ability to try them out and pick the form factor that fits the user best.
Perhaps the question looming larger than if it is a good follow-up to the Droid Incredible, however, is how it fairs against its arch nemesis iPhone. The competition is tough, with the iPhone 4's Retina display, larger (and seemingly higher quality) app selection and so on. But, the Droid X has some significant advantages of its own: a network that in many of our tests has proven to be more reliable, a larger display and the mobile hotspot functionality.
The Droid X is an unquestionably good device. If one is already tied to Verizon, the only reason to hesitate on buying it is that it runs up against the similarly impressive Droid Incredible. If one is not yet committed to a network, the decision may prove a bit harder, with the impressive iPhone 4 and Evo 4G vying for attention. Nevertheless, the Droid X is a capable foe to these phones and should be seriously considered by anyone looking at other higher end smartphones (Motorola/Verizon, www.vzw.com, $199).
Timothy R. Butler is Editor-in-Chief of Open for Business.