Jul 24, 2010
Henry David Thoreau famously wrote on life by a pond some one hundred and fifty-six years ago. As I sat looking out a window upon glistening water earlier this week, I realized quibbles with the transcendentalists aside, I too needed a Walden Pond.
I am not one to typically identify myself with Thoreau. The transcendental period smacks of a reworking of the Romantic Movement that was already tired before Thoreau was even born.
Nevertheless, Thoreau was wise at times. His wisdom related to living by a pond, I remarked to myself as I sat in a cabin overlooking Table Rock Lake in the Ozarks of Southern Missouri.
Glistening water has a definite hypnotic effect – when staring at it, I can ease my mind free of pretty much all focus but the soft undulating surface of the lake painted by little diamonds of sunlight. In spite of that, or perhaps because of it, I also find I often do my best thinking by the water. Plenty of my most creative ideas for writing and business have arisen as I sat by (or on) the tireless lake.
In recent years, the joy of getting away to the lake has, however, been endangered. While for many years I would give my e-mail one final check before leaving St. Louis en route to Table Rock, these years, my e-mail travels with me in those diminutive devices I spend so much time testing and writing about – smart phones.
One of the benefits of any smart phone, and certainly one of the things that first sold me on the practicality of the iPhone, is the ability to handle e-mail and other electronic communication pretty much anywhere. Most of the time this fits into the realm of Good Things.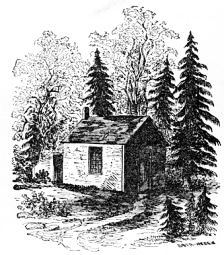 Illustration from Thoreau's Walden.

However, last week – as with other recent vacations – I grappled with this Good Thing as I sat there by the lake with an iPhone and a Droid X within reaching distance. The iPhone is mine and so it of course came with me in case someone had an emergency need to call me (or vise versa). The Droid, on loan from Verizon, traveled with me so that I could test its rural network reception and camera capabilities.
None of those purposes for bringing a smart phone had any impact on the hypno-creative alchemy of the lake. What could have stifled my watery muse was the e-mail box sitting there within those phones. As I sat and stared out the window of the cabin, my hand felt a twinge of desire to see if anything important had shown up in my inbox.
I resisted.
While I did use both phones to take pictures, check the weather and get the occasional map, I ignored the little "Droid" voice as it alerted me to the ever-increasing pile of e-mail in my inbox.
Eventually, I turned the voice all the way off.
I need time away from the constant "collective" of modern communication. I think most people do, at least if they are ever going to think creatively.
Perhaps it is good I had to test the strength of my will power to get away. But, this battle got me thinking – I was by the lake, after all – how hard it is to become disconnected today. Virtually no one will leave the cell phone behind entirely (for good reason), but when one's cell phone can easily do things most computers could not do a decade ago, getting away by leaving the laptop behind seems a lot more hollow than it use to.
What if the phone companies offered a convenient way to screen everything while on vacation? Only emergency level contact would make it through via any of the communication media on the phone – voice, text, e-mail, Facebook, Twitter and so on. These tools are all useful – and today backing away from them entirely for any stretch of time may not even be wise – but if someone could provide a sensible vacation "filter," it might be worth paying a few bucks for peace and quiet during R&R.
This is surely a challenge Thoreau would have had to grapple with if he were alive today. If a vacation plan had existed in his lifetime, perhaps he would have signed up for it.
In the mean time, he'd probably turn off his cell phone.
Timothy R. Butler is Editor-in-Chief of Open for Business.