Jun 25, 2010
The Microsoft KIN phones are a little hard to categorize. Built by the team that previously designed the T-Mobile SideKick line before being acquired by Microsoft, the unveiling of the KIN devices in April represented the confirmation of years of rumors about Microsoft producing its own Windows Phone. But this is not like any Windows phone you've seen before; instead, the KIN provides its own commendably trailblazing charm.
While the KIN runs Windows CE underneath, a cursory look at the device surely would not hint at its heritage. The phone is wrapped entirely in a custom interface that draws on some of the concepts that appear in the up-and-coming Windows Phone 7 platform Microsoft plans to release later this year. Supposedly, the KIN and Windows Phone lines will eventually merge, however when and how this will happen is still unclear.
The KIN line is unique amongst Microsoft's phone offerings in that it is not a smartphone. Despite being in an odd limbo position in Microsoft's product mix, though, the KINs are interesting in the way that concept cars are often interesting: it is starkly different from other current production phones.
In this review, the KIN devices should really be compared with other feature phones, in which case it would give most of them a thorough trouncing. Oddly, however, the device is priced such that we really must compare it with smartphones, which diminishes the luster to some of its otherwise interesting features.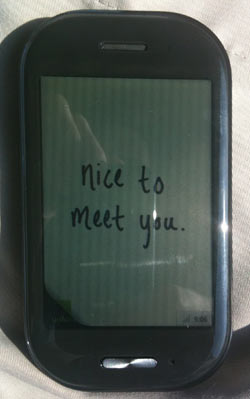 The

KIN

Two's welcome screen harkens back to the original Macintosh ads.

Both of the KINs are slider phones that slide out to reveal full QWERTY keyboards. The KIN One is a rather unique looking little square phone that fits especially nicely in a pocket, while the KIN Two is a more traditional slab that can be turned to a landscape orientation to access the keyboard, ala the Droid. We found both phones featured exceptionally good mechanical keys, seemingly making them perfect for texting or writing email.
General build fit and finish was as good as the keyboard. In fact, the KIN devices, while definitely made of plastics, felt clearly above many lower end phones we've tested in sturdiness. We did find the unlock button rather hard to get to work, but since the phone unlocks when it is slid open, that is not a big deal.
The phones performed well for basic communications. Both had very good reception for data and voice, even in relatively remote locales. Battery life was excellent, yielding more than a week of standby and ample time for activity on the phone.
In lieu of an app store, the KIN comes preloaded with social utilities for accessing and updating Facebook, Twitter and Windows Live, similar to Motorola's Motoblur aggregation system on its Android phones. Once connected, the phone populated its homepage with a nifty looking mosaic of friends' pictures with their most recent status updates overlaid.
The social functionality was nice – and Microsoft deserves credit for trying something different with how the information is displayed – but the KIN's unique display of the social data was not necessarily easier to use or better than that of other phones. Most recent Android phones we have tried have come preloaded with social features that worked as well or better than the KIN's offerings. This is rather unfortunate since social connectivity is essentially the KIN's purpose in life, save for its capability to double as a Zune HD-style media player. It bears repeating that the KIN easily beats the abilities of most feature phones on these counts – if low end non-smartphones were the competition for the KIN, it would clearly be the best of the bunch.
The built-in web browser gave a workmanlike performance, moving with a competitive speed we have not seen in other iterations of Microsoft's mobile browsers. While not as good as the WebKit-based browsers in Android, WebOS and iOS devices, it was more than serviceable and worked on most sites we tested.
The KIN cameras were relatively average phone cameras, despite their high megapixel specifications. In testing, we found that the KIN Two produced a better handheld image than the KIN One, establishing better focus and offering better indoor exposure. Nevertheless, neither were especially good performers, with most shots ending up rather blurry.

100% crops of the

KIN

Two, iPhone 3GS and

KIN

One cameras (left to right).

A potentially redeeming feature for the phone is its KIN synchronization functionality, which keeps the phone constantly in sync with a KIN online service that is included for no additional charge. In some sense this is like MobileMe on the iPhone or Google's synchronization services on Android phones. However, Microsoft's service one-ups these other services by keeping one's photos and call log safely in the cloud along with contacts and settings (the KIN does not have a calendar, so calendar sync is a non-issue).
The concept of automatically backing up photos to the cloud is a great one. I began testing the KIN with a prerelease device back in April and when the device needed to be returned and exchanged for a production model, I was not able to download my photos off the KIN since the desktop software was not made available until launch (and, following Apple, Microsoft has chosen not to provide USB mass storage access on these devices' photos). I cleared the original device and handed it in to Verizon, yet I was able to retrieve my photos at KIN.com. Once I began testing the release models, the photos also reappeared on the new phones as soon as they were logged in to my account.
Clearly this would be beneficial if you happen to lose your phone, have it stolen, accidentally submerge it or otherwise find it dead or missing. As phones become more and more prominent as picture taking devices, having automated backup of photos is a great thing.
On the other hand, not everything went smoothly with the cloud backup system. We were surprised to find out that the KIN sync functionality automatically removes the photos from the phone once they are transferred to the cloud. While you can still view them from the phone, once this process has occurred, the KIN desktop sync software cannot download the photos for you onto your computer. Instead, one must go onto the KIN Studio web site and download the images one by one – a big pain.
Speaking of desktop synchronization, Microsoft deserves credit for actually including support for the Mac. Unlike many phones we have looked at, the KIN includes official Mac support. Mark/Space, a company that develops synchronization software for a variety of devices not officially compatible with the Mac, such as Windows Mobile phones; for the KIN, Microsoft commissioned them to develop a desktop sync tool that is a free download accessible from the KIN website.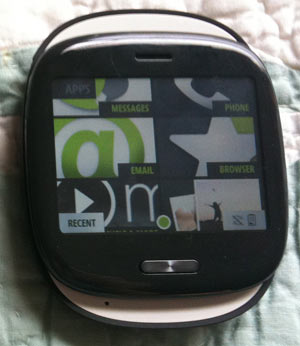 The

KIN

One displays the

KIN

home screen.

While Android phones work with the Mac, out of the box one needs to do some manual tweaking to get things to sync (or buy a program from a company such as Mark/Space). Given that current phones typically do cloud based syncing for many tasks, this is not a huge deal, yet we appreciated that the KIN software made it essentially as easy to sync a KIN as it is an iPhone.
The KINs are priced at $49 for the 4GB KIN One and $99 for the 8GB KIN Two, relatively competitive pricing with other high end feature phones. Though the iPhone 3GS (and any number of Android phones) are available in the KIN Two's price range, the KINs should still have the advantage price wise since they are feature phones.
High-end feature phones often appeal for those wanting to avoid the $30/month data plan that usually comes with smartphones, as we noted in our review of the LG enV Touch last year. Unfortunately, in a most peculiar decision, the KIN requires a smartphone data plan, despite clearly being better classed with Verizon's feature phones and their accompanying $15/month data package.
This shoots the KINs in their proverbial feet, forcing them to compete against far more able Android and iOS alternatives. For light to moderate usage, one could actually pick up the $99 iPhone 3GS with a plan that costs half as much per month as the KIN plan.
Sadly, for now this means we would point those in the market for a new Verizon phone to one of the company's collection of Android devices instead. We wanted to like the KIN, and like the concept car analogy mentioned earlier, many of its ideas are good in theory – they just come up short in practice. Nevertheless, the KIN's interesting interface concepts do portend interesting things to come for the similarly designed Windows Phone 7 line. Take the KIN's interesting concepts and combine them with less limitations (or lower its service price so it can compete with more comparable phones) and Microsoft could once again be a player in the mobile market (Microsoft/Sharp/Verizon, $49 for KIN One and $99 for KIN Two, www.vzw.com).