Oct 29, 2009
With a major ad campaign, directly targeting the iPhone, in full swing promoting the new Motorola Droid, it may be fair to say Verizon's first Android-based phone is also perhaps its most anticipated device in recent times. Does it live up to the hype? Read on for OFB's unboxing and short preview of this phone, which will be available for purchase next week.
The somewhat eerie "droid" imagery is continued from the commercials onto the box, which conveniently slides open to reveal a stylish, unique handset. The eeriness is disarmed once the phone comes on and the user is greeted with Android's friendly android mascot.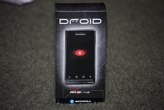 For the complete unboxing gallery, click here
The Droid, with a large 3.7" touch screen and four touch sensitive buttons, looks a lot like many touch-centric phones, but the sharp angles give it somewhat of its own variation on the concept. It is immediately clear that a lot has changed from the days of the RAZR and the Q.
A landscape slider phone, the Droid opens to reveal an almost completely flat keyboard and a directional pad. We are reserving judgment on the flat keyboard until we've spent more time with the unit, but so far it works rather well. The sliding mechanism is one of the most solid we've tested, traveling along its path with a very smooth motion that concludes in a satisfying click.
Initial activation of the phone was fast and simple – within just a couple of minutes of being turned on, the phone had already pulled a complete set of contacts onto itself from Google's Gmail service.
The touch screen is very pleasant in brightness and color. Thanks to its use of a capacitive touchscreen, it offers sensitivity similar to that of the iPhone, making it a snap (or, rather, a "touch") to get from function to function.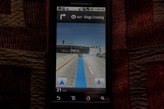 For the complete unboxing gallery, click here
Our early testing suggests the TI OMAP3430 processor provides ample horsepower to keep the interface moving smoothly through clean transitions, program launches and even multitasking.
Google's new, free GPS navigation software is included and worked as promised, quickly loading a route and displaying it with a GUI we found similarly pleasing to that of Navigon's $90 offering for the iPhone.
In sum, after a few hours with the device, it appears solidly built and promising in execution. Stay tuned for a complete Open for Business review in the coming days.