Dec 23, 2008
Have you put off your Christmas shopping just a little too long and now you are panicking what to get those still on your shopping list? Never fear; the editorial team at OFB has gathered some of our favorite gift ideas, starting at under $5, and have even noted a few that you can still get shipped online if you'd rather avoid the holiday bustle of brick-and-mortar stores.
RadTech Optex
Whomever you are looking to shop for, RadTech's line of Optex microfiber products will be appreciated by your recipient. RadTech's unique fabric is made into handy "ScreenSavrz" keyboard covers to keep laptop keys from marring the LCD when carrying a laptop around, into "Sleevz" to protect the outside of a laptop when tossed into a bag, and into handy, smaller LensSavrz sizes for carrying in a camera bag or cleaning other sorts of equipment.
Here at OFB Labs, we have tested RadTech's various Optex-based products in the past and two points make them stand out: for cleaning, Optex is, simply put, vastly less likely to scratch delicate surfaces like lenses, glasses and LCD screens than any other product we've tested and it is extremely durable. My Apple PowerBook has worn a protective Sleevz case since I purchased the machine in 2004, and the computer and the Sleevz both look as good as new. One word of warning. Optex is addictive: if you give someone the gift of Optex, they will soon have an unquenchable desire to use Optex all over the place. At press time on December 23, you can still order RadTech products in time for Christmas if you use overnight shipping. (Prices start at $4.95, RadTech)
-Timothy R. Butler
UNICOMP's Model M Keyboard
Back when dinosaurs roamed the earth, Big Blue was famous for making extremely good keyboards. For many people, the IBM Model M Keyboard, that came with the IBM PS/2 was the pinnacle of this art. Sadly, IBM later sold its keyboard division to Lexmark. But not all hope is lost. The IBM keyboard guys who went to Lexmark spun off to form UNICOMP.
Nowadays,
UNICOMP
offers a wide range of great PC keyboards and other accessories. Today,
UNICOMP
's "Customizer 101" is the closest thing to an
IBM
Model M Keyboard you can get. It's pricey, but if you know someone who wants a great keyboard, it's worth every penny and it makes for an excellent choice. I've been using it for more than two years, and it does the job very well. Your recipient will not mind having to wait until after Christmas for delivery of this gem (MSRP: $69,
UNICOMP
).
-Eduardo Sánchez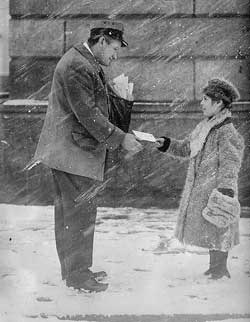 A Letter for Santa (circa. 1910).
SOURCE:
LOC
/Bains News Service
Canon Digital Rebel XS
For the photo enthusiast in your life who has not yet jumped into the world of DSLRs, the Digital Rebel XS (a.k.a. 1000D in Europe) may be a dream come true. The idea that a high quality, modern DSLR – with live view even – could be had for under $500 with a lens might have seemed nearly unbelievable a year ago. But Canon surprisingly unveiled this little gem a few months ago.
The Rebel XS has the same DiGiC III processor Canon has used in the camera's big brother, the Rebel XSi, and in that camera's higher end sibling, the 40D, producing high quality images even in low light situations. While the kit lens is relatively limited, the creative possibilities that your recipient will be able to enjoy are vast, and the camera is compatible with Canon's whole line of EF lenses and other EOS system accessories, meaning the camera's low price will in no way limit your photographer's growth into the full world of SLR photography. Amazon even throws in a free UV filter to protect the lens if you remember to toss that item into your cart before checkout – but hurry if you want it before Christmas, express shipping ends soon. (Street price: $478.41 with a 18-55mm f/3.5-5.6 lens, Canon).
-Timothy R. Butler
ESV Study Bible
The English Standard Version of the Bible is of outstanding quality and deserves to be counted among the cream of the crop of modern English Bible translations. If you think it appropriate to give a Bible to someone special, this might be the one of the best. The Study Bible comes with a massive amount of notes, maps and other useful helps – and even provides free online access to a digital edition of the study tools (Street Price: $31, Crossway).
-Eduardo Sánchez
OakTree Accordance 8 Bible Software
Hold on before you buy that ESV Study Bible mentioned above. If the person remaining on your list also happens to be a Mac user, consider gifting him or her Accordance 8, a highly flexible Bible Study program that offers the ESV Study Bible amongst its wide variety of available modules. While some of Accordance's packages can grow rather expensive, Library editions bundled with a great deal of wonderful resources start as low as $59, and can be expanded by your fortunate recipient as needed.
Not only does the huge variety of modules make it hard to outgrow the content available for Accordance, the program itself is likewise hard to outgrow. The well designed, time-tested user interface is simple enough for the person wanting to do just basic Bible study, but underneath is a robust selection of tools for complex grammatic searching, original language research and other similar features that will keep even the seasoned scholar on your list pleased as a bowl of holiday punch. If you do not know quite what to order, give the good folks at OakTree a call and they'll help advise you – just make sure to check out the really nifty atlas sampler – a real steal for $20. Some packages are even downloadable, perfect for late gift shopping (Prices starting at $59 for Library Starter, OakTree Software).
-Timothy R. Butler
Still Perplexed?
My one and only advice to folks asking about gifts is always "give food, or the means to make it." It's so rare I pay attention to specific merchandise, I have nothing in mind. Instead, I have a list of "don'ts" — mostly paying attention to what the recipients have said they liked or didn't like, or something which brings a result they won't like.
For example, very few people actually like flavored coffee samplers. They tend to make a mess of coffee makers and leave a lasting smell that flavors the next four batches. However, most people do like those
sausage and cheese samplers, jellies and jams, cookies, etc. Even better is to make your own basket. Best of all is something you cook/bake yourself.
Don't give exotic appliances which have only one use, unless recipients have said they really want one. However, even a single really good kitchen knife is great. Anything which is used every day and really
serves well, provided they don't already have one. Go ahead, snoop in their kitchen, or at least watch them prepare something a time or two.
Check a man's tool collection, and give him a replacement to a single badly worn tool, or a new one which is actually useful. Give him something he has borrowed from you. You'll have to gauge his desire, not so much whether he actually knows how to use it. Similar thoughts for hunters, hobbyists, etc. Don't give the highly advertised junk tools unless he asks for one.
Always consider going in with someone else to get something with a slightly higher price tag. In other words, if you don't spend much time with people to whom you feel a sense of obligation about giving gifts, you'll likely never do the right thing. This season is about people.
-Ed Hurst