Nov 09, 2008
Even to the present day, I remain woefully ignorant of the catalog of an American acting legend – Katharine Hepburn. Despite that, based upon two films, 1967's Guess Who's Coming to Dinner? and 1981's On Golden Pond, I had decided that she was the best actress I've seen.
Today's actress is so chained to her sex appeal that she is not allowed to act. In the past, it was at least possible that a female character could be intriguing in some other way, and then in due course, or perhaps because she creates interest, be considered sexy. I don't believe it's overstatement or moralism to say that sex appeal is now the only criterion.
Make no mistake: Miss Hepburn was a striking woman at every stage of her adult life. But it's no accident that she's more known for acting. When I saw the actors and actresses she'd acted with in these notable films, I got a palpable feeling of disappointment; no current actor or actress is larger-than-life, it seems, as Hepburn, Spencer Tracy, or Sidney Poitier were. Please forgive me if I sound simply nostalgic for bygone days; my hunger is deeper than that, as I hope I can explain. I don't mean famous – there are ample numbers of those – I mean rather that the person so grabs you with his or her character that you forget the actor's name. The actor is the character, and there's no going back. If one is so great that he's at risk for typecasting, he's done a great thing.
Anyway, I was up late some weeks ago watching Turner Classic Movies, when I noted a two-hour block simply titled, "Katharine Hepburn," and I was intrigued. It was preceded by a bio reel in an old style that recapped Hepburn's career – distinguished to say the least: 12 Academy Award nominations, 4 wins for Best Actress, and numerous other awards – followed by an interview from 1973 she gave on the Dick Cavett Show. I'd venture to say this interview would capture and hold your attention surely as any blockbuster feature of today.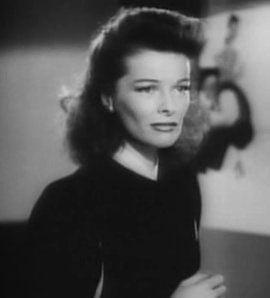 Hepburn in Stage Door Canteen
Their discussion ranged from method acting and famous costars to the films themselves. Hepburn laid out a philosophy of acting and strongly affirmed the privilege of acting in a manner so humble as to belie her well-deserved fame. She said Spencer Tracy was the one from whom she'd learned the most, and that he'd carried her through their nine movies together. According to Internet Movie Database, Hepburn won the 4 Best Actress Oscars for Morning Glory (1933), Guess Who's Coming to Dinner? (1967), the Lion in Winter (1968) and On Golden Pond (1981). Considering her 21 nominations, there is little reason for such modesty.
In any case, I plan to watch the 2 Oscar-winning performances I have not seen, then progress through as many other films as I can. But hers is a stage and screen career that lasted over sixty years; I doubt I will finish. Hepburn was kind enough to enlighten me as to the reason for the dearth of great actors even by the time of the said interview: sexual self-absorption. Her life could hardly be called morally strict or sexually inhibited, but she believed that even in 1973 we had begun to turn inward so much that people lacked the skills to either act or live the "great hero and heroine stories" of her earlier decades.
Moreover, though firmly committed to the idea that American actors were superior to British ones (and presumably everyone else) she lamented our loss of skill in speaking English. What this seemingly points to is a lack of identity. We are living through a time of fragmentation and coarsening; it will be hard to tell if our storytelling (and, ultimately, the nation) can be recovered. Odd that an avowed atheist should identify such a deep spiritual need by way of film.
I can't think of a contemporary actor who could be interesting to interview for two hours, and the tragedy of that is only matched by the majesty of Hepburn's interesting life and career.
Jason Kettinger is a contributing editor to Open for Business.