Oct 30, 2008
This year Americans face the most important presidential election in recent history. Already, in the last couple of months, the economy has caused nearly unprecedented measures, of which we can surely expect more over the coming weeks and months. This, along with new challenges in foreign policy require that the voter be more informed than ever when choosing a candidate to vote for this year. Open for Business believes that when the evidence is considered, the informed voter should vote for Sen. John McCain (R-AZ) for President of the United States.
Sen. McCain offers a stronger portfolio of credentials than any candidate to run for the country's highest office in years. A war hero who honorably endured five years as a prisoner of war, John McCain has the sort of solid character that assures the American people he will make principled, not political or self-serving decisions. Perhaps the most powerful example of this was from during his war service, when a less honorable man might have taken an opportunity presented by the North Vietnamese to leave the prison as a propaganda piece after only a year – Sen. McCain remembered the military's "first captured, first released" code and refused to take a pass before those in prison longer were released.
He also has a long legislative record, but one marked not with partisanship, but rather with coalition building of the sort needed when Americans are as markedly divided as they are at the present time. In the case of John McCain, a different sort of politics has not been a slogan but a course of action. On campaign finance reform, immigration reform, environmental policy and judicial nominees, he has struck out on a trajectory aimed at bipartisanship. The Gang of 14 – made up of seven Democrats and seven Republicans – for example, sought to disarm the worst tendencies in both parties concerning judicial nominees and insure a fair hearing for qualified individuals. Sen. McCain was perhaps the most visible member of "the gang;" notably, two other members of it, Sens. Joe Lieberman (In. D-CT) and Lindsey Graham (R-SC) have been extremely active on the campaign trail for Sen. McCain.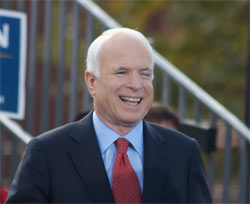 SOURCE
:
OFB
/Timothy R. Butler
Sometimes to the admiration (and sometimes the consternation) of conservatives, Sen. McCain has always shown a character of independence, pursuing a path he felt best served the country and not a party. Even if one disagrees with individual stands that the Arizona senator has taken, the honest observer must confess Sen. McCain does not seem to choose his positions because of their political expediency. Supporting the surge in Iraq seemed like a Quixotic way to prepare to run for the presidency, but he supported it because he believed it was the right thing to do. Likewise on issues that very easily could have dashed any hopes for a Republican presidential nomination – such as "comprehensive immigration reform" – he simply has refused to base decisions on what will get him elected.
OFB does not agree with all of the senator's positions on these issues, but admires the character he has demonstrated. That said, while some of Sen. McCain's positions may be other than that of OFB editors, many times the senator has been proven right, for example on the Iraq surge. Sen. McCain's judgment has a sharpness surpassed by few.
EDITOR'S NOTE ON OFB ENDORSEMENTS: Unlike some publications, Open for Business features contributors from a variety of political persuasions, including some who dissent from our editorial endorsements. We always welcome thoughtful contributions on politics and other subjects.
Sen. McCain offers a strong counterweight to a likely heavily Democratic congress, but one that will not simply cause gridlock. McCain's "maverick" independence makes him the sort of person uniquely able to work with such a congress without simply ceding to its more radical demands. Simply put, the congress seems prone to favor socializing institutions at a level never before seen in this country, and having a strong, principled counterweight will be vital to slowing down hasty decisions and insuring Americans are not permanently laden with a system that makes us worse off than we are now.
His ability to reach across the aisle is in part made possible thanks to his unusually apparent humility – an unusual trait amongst candidates for the land's highest office. While his judgment has typically been sound, he is quick to take responsibility for his mistakes over the year – from his early, wilder days in the service to his divorce. He is also surprisingly reluctant to dive into his own heroic actions. Many would do well to learn from his example, not only in heroism but also humility.
Sen. McCain hence has three reasons that we submit him as the best candidate for the present time: he has the character to restore confidence in Washington, an independent streak that insures that he will do whatever is necessary to help the country face its economic and foreign affairs challenges, and a principled – not partisan – conservatism, which will work with that independent streak, to allow him to broker deals with the Congress without ceding to the elements in it that are out of the mainstream.
Sen. John McCain certainly has a strong resume for the difficult task at hand and a moral clarity to his service which is rare and commendable. Sen. McCain has the potential to be amongst the best American presidents and thus we urge all Americans to support him for the presidency on November 4.