May 30, 2008
Seven years ago this week I published my first online commentary piece. The topic was the predicted death of the Linux desktop brought on by the demise of Eazel, the original developer of GNOME's Nautilus file manager. A lot has happened since that time, but not precisely how I would have predicted it would. Let's review.
Back in those light and easy days of the early part of 2001, things were not all that light or cheery in the Linux world. Back then, the world had not heard of Ubuntu; back then, it was normal for the media to confuse Red Hat with Linux – the term "Linux 7" would pop up when a writer meant to say "Red Hat Linux 7." In that environment, one in which I had just made GNU/Linux my primary desktop platform, the fall of the GNOME software developer Eazel, coming on the heals of some other news making failures, such as that of Linuxgruven, led to a sense of doom among many of those who had drank too deeply of the Dot-Com Bubble's elixir of optimism. The unlimited optimism having evaporated, these people now began to suffer withdrawal symptoms of doom.
At the time, I wrote that Eazel's failure would not hurt GNOME, much less the Linux desktop itself, in the long run. Because of the association of Red Hat with all things Linux at the time, many people had forgotten that another desktop environment, KDE, existed and was not harmed in the least by Eazel's death. I hardly need to point out that I was right. GNOME thrived after Eazel's death, eventually to the extent that I switched "sides" and became a GNOME user myself. Ultimately the failure of Eazel, and plenty of other large and small Linux companies over the following years were a healthy culling of the excesses of venture capital investments in half-baked business models. Perhaps more importantly, the failures have been the process by which we have seen what business models do work with Free Software.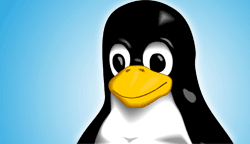 Source: Larry Ewing
Dell, which was partnered with Eazel, and later dropped almost all involvement in desktop GNU/Linux, returned once a really polished desktop started to emerge in the form of Ubuntu. Red Hat and Novell have adapted to the terrain and carved out segments that can actually make money and now offer products that are appealing to businesses not necessarily driven by ideology. Things have been successful – yet in May of 2001, I would have predicted far more success.
In 2001, it appeared that GNU/Linux was ready to make a real run at Microsoft's dominance in the market, becoming the true second player as the somewhat soft and overripe offerings of the Cupertino, CA fruit vendor struggled to make much of an impact at all. KDE was really relatively mature and, within a year or so of that time, GNOME started to show maturity too. But despite all the progress, when I look at the experience of using Linux in 2001 and compare it today, I have to ask, "Where did the last seven years go?"
Frankly, many of the problems that existed in 2001 – hardware support, multimedia support, interface pleasantries – have done little to improve. GNOME learned to act fruity in its GUI layout after Apple started to rebound and KDE has continued to come up with nifty, if overly complex, technologies for its desktop. However, while Linux desktop developers continue to try to make installing software easier and are attempting minor facelifts to interfaces that act mostly reminiscent of the decade old Windows 98, Apple managed to turn itself around, launch a new operating system platform, switch processor architectures and seize a sizable majority of the lucrative high end PC market. Everyone's favorite challenger to Microsoft remains a side player, and one that continues to see inroads from Microsoft in its non-desktop stronghold of web serving, while the desktop market is again a lively battle between Redmond and Cupertino. This is not how it looked like it would be in 2001, and, frankly, should have been if the Linux desktop had developed its potential in a focused manner.
The problem is the same problem that doomed companies like Eazel: vision. The idea that a file manager could provide a sustainable business model in the twenty first century was somewhat silly at best. They may have had a good idea, but no vision for how to develop it into something that would pull in users and keep the company afloat. The Linux desktop, to the dismay of someone like myself, who founded Open for Business for the precise purpose of communicating Linux's virtues, lacks vision. To beat the competitors, one needs either amazing volume or amazing vision. The former belongs to Microsoft, the latter to Apple. What then belongs to Linux?
Without vision or volume, the Linux desktop is not sentenced to die – I remain convinced that the prophets of doom that were busy chanting in 2001 are wrong – but it is sentenced to relative unimportance. The Mozilla Project faced a similar threat and responded with Firefox. Linux needs a defining, unified voice like that which Firefox provided for Mozilla. The question seven years later is whether the time for that has passed Linux by.
Timothy R. Butler is editor-in-chief of Open for Business.