Apr 25, 2008
In the coming months, Serenity Systems and Mensys will be offering the latest release of eComStation, 2.0. This is the new name and face on the venerable OS/2. It's all too easy to find websites discussing the history of OS/2, articles that walk through the installation process, and lists of drivers, software, and so forth. Despite the ardent love for OS/2 one finds in the user groups, it remains a fairly small niche operating system. This has little to do with the technical merits or demerits of OS/2.
Most of my exploration of different operating systems takes place on used computers, largely older and low-end stuff. I'm not in a position to buy the best stuff, and seldom even good stuff. There are a lot of other folks out there in the same boat, needing computers and what they do, but lacking the corporate grade budget. If you can afford it, our Senior Editor, Tim Butler, will tell you to go Mac. He's not quite as bad as those who suffer from the Doctrine of Insufficient Adulation Syndrome, but he does love it. For those who have to scrounge as I do, I attempt to point out possibilities I've discovered. We've done a few things with Linux, of course, but I decided to attempt demystifying FreeBSD for those who needed something a little different. I still love it, and can't wait for nVidia to offer a 64-bit driver so I can switch back to it for this, my first system I managed to build from all new parts. FreeBSD works the way I do.
However, that doesn't dampen my curiosity. The fundamental call to explore other ways of computing reflects more my interest in helping people find what they need for what they do. I'm not often that interested in the canonical methods promoted by the core community of advocates for each OS I try. I'm much more interested in how the larger number of those who use an OS as a primary tool of their work use that tool. It's easy to get fanboys to tell you why their demigod OS is best, and some of it may actually have roots in reality, but the religious fanatics aren't representative of the larger user base. The nature of the OS as product is found among those who can't get their job done as well with anything else.
The first thing we note is many devoted users are simply accustomed to the peculiarities of their OS. Investing a great deal of time and effort learning something makes it expensive to switch. For example, my first contact with computers was compliments of the US Army, where I spent hours working with a DOS office suite called Enable. I loved it. For the first time, here was a tool where I could merrily type away and not worry about losing my train of thought while fussing over minor corrections. Once I was through, I could go back and fix all the typos and grammar errors before it was committed to print. This was a major improvement in my world. I became the local guru of that office suite. Later the military abandoned it for Windows and GUI office applications. For long years I remembered the oddball keystrokes, but could never get a copy of the software. Recently, I found if I joined the Enable users' group at Thog's Cave, I could get a copy of the last release of Enable/OA "Office Automation." While I've forgotten many of the keystrokes, I'd gladly trade OpenOffice for Enable any day, simply because I know more about it, and prefer the way it works. It's much the same about Linux and BSD, where I run Enable in DOSEmu. Unix seems to me what computing should be. I could never go back to Windows comfortably because one cannot make it act like Unix.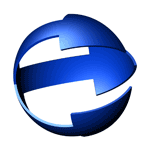 Source: Serenity Systems
OS/2 and eComStation (eCS) aren't Windows, either. Yes, they share some code and heritage, but the differences are still huge. It has always been undeniably a better DOS than DOS. For those whose minds function well in the object-oriented environment, eCS is home. Everything is an individual object, to which you can make all manner of unique adjustments to suit your purpose. No other object has to share those settings, regardless of shared features between them. While the lack of significant change in the OS itself is often frustrating for those longing to see certain new features, many users hail it as their salvation from the loss of backward compatibility. So eCS isn't really all that dramatic a change from OS/2. The newest version still runs about the same on the same older hardware. The only significant code bloat is in the added system tools, such as Java, or the Mozilla family of web applications. Indeed, some would say a major element in keeping eCS current is code ported over from Linux and BSD.
That it remains such a small presence on the Net helps to explain why there are no viruses for eCS. It's as close as you can get to Windows without being a malware magnet. There are some security advantages by design, as well. eCS simply will not allow certain things typical of viruses. People I know personally who run racks of OS/2 servers have never suffered any electronic intrusion of any sort. Their biggest threat is lightening and physical theft of the property. As a server OS, it's just as solid as Linux and BSD, and works quite well on older machines.
However, therein lies the major barrier to wider adoption. You can't run eCS and OS/2 on just any old computer. The hardware I can get my hands on is mostly inadequate. Sure, I suppose I can find drivers, and get lots of help running them down. OS/2 folks are generally one of the nicer communities, with flame wars relatively rare in the forums and Usenet groups I've visited. However, the process for getting and applying these fixes is unlike any other OS I've tested. The OS can be quite intolerant of imperfect tweaking, and while I'm sure there is a way, I've not yet run across the means to booting past critical errors to fix things. And it's not getting any easier, in some ways. Just recently, the only supplier of graphical drivers -- SciTech -- ceased development. I note the latest kernel patching still lacks any approach to using 64-bit extensions, though it will run quite easily in SMP mode. You can run it on lots of newer hardware, but it has to be that better grade of stuff. Even then, some of it simply can't be made to work. The OS/2 forums are loaded with discussions of narrowing down the few motherboards which are the best, and avoiding the rest.
It's not enough you have to pay retail for eCS at prices comparable to Windows, but you have to pay a pretty penny for your hardware. For a lot of drivers not already included, the means to installing is fairly involved, calling for editing config files with a high degree of specialized expertise. I thought selecting the right options for DOSEmu on Linux was just a little tough, but I'm still months from understanding the tweaking required for eCS configuration files. And it seemed to me there was an awful lot of it, all fairly demanding. Serenity supplied me with one copy each of the stable release (1.2R) and the current release candidate (2.0 RC4). So far I've gotten one or the other to run on the half-dozen machines I've tried, but there was always something which made the results unusable. The fixing was typically quite involved, and it always came down to cheaper hardware being poorly supported.
Over the coming weeks, I'm hoping I can locate and test eCS on hardware more suitable. I'm not put off by the initial failures. The way in which things did work well indicates there's something valuable beyond the barriers. OfB will have more to say about eComStation in the coming days (Serenity Systems, $255).
Ed Hurst is Associate Editor of Open for Business