Aug 11, 2007
In an age of digital photos and easy DVD burning, it is becoming common to take a set of photos and burn them into some form that can be played on a DVD player. A few weeks ago, for example, I was preparing a set of photos for a wedding DVD. There are a variety of ways to do this, but most of them give less than perfect results and control or they are too time intensive.
When I first started doing such projects, I was frequently content to let iPhoto render a slideshow, perhaps exporting it to iMovie to handle the soundtrack and a few other minor details before burning. More recently, I have gotten into the habit of using iMovie directly to render the photos with the Ken Burns effect and transitions, which makes it somewhat easier to tweak settings for individual photos. iPhoto works well, but is not entirely intuitive if one desires really granular control; iMovie HD gives plenty of control, but at a price of speed and convenience (Note: at press time Apple had just released iMovie '08, which will be considered at a later date).
Both programs can batch apply pan and zoom effects for hundreds of photos at once, but it is the exact same effect that is applied to each photo. In iPhoto one can opt for automatic application of the effect, but doing so disables the ability to customize zooming for individual photos. That is, unlike watching a real Ken Burns documentary, left without further intervention, iMovie will have the "camera" repeatedly follow the exact same movement on photo after photo like a broken record. Rendering takes a lot of time as well – both for the initial addition of pan and zoom and the addition of appropriate transitions.
What has been really needed is a program that is meant to give iMovie-like control, but is oriented specifically to photo slideshow projects. That might as well be the description of FotoMagico. Anyone who has used Apple's iLife suite will immediately feel at home – especially those who are use to iMovie HD's interface, which FotoMagico follows very closely with great results. At first, I doubted whether there is an advantage to a program that is more specifically focused than iMovie, but uses a highly similar interface. A few minutes around FotoMagico will disabuse any skeptic of doubts about the matter.
FotoMagico's focus on photos resolves the first issue I described with iMovie. When I dropped over 700 photos into the timeline, it was able to pull them into the project briskly (in just a couple of minutes, as opposed to an exponentially longer period of time in iMovie). The speed comes at the cost of requiring that everything be rendered later (if you plan to use the slideshow outside of FotoMagico), before the movie can be sent to iDVD, but depending on your workflow, pushing off the entire rendering process until the end of the project may be quite beneficial. Conveniently, FotoMagico provides random pan and scan effects over the photos so that the slideshow can be used immediately and look great, without manually tweaking each photo – much like iPhoto's default "automatic Ken Burns" effect, as opposed to the iMovie Ken Burns effect. Likewise, adding photos was a one step process: there was no need to apply transitions afterwards – they were already added in.
That said, FotoMagico's iPhoto-like ease is combined with more iMovie-like control. The impressively intuitive interface allows the user to quickly click on one or multiple transitions and swap them for other effects – some that iMovie has, as well as some unique ones that seem perfect for dealing with photos. The pan and scan effect too can be tweaked individually, but without giving up the randomization of the effect on slides that are left untweaked. The method of adjusting the effect is also much more intuitive. Unlike in iMovie, which requires the user to toggle the preview to adjust the start and destination of the Ken Burns effect, the before and after views of pan and scan are shown side by side for easy adjustment in FotoMagico. Moreover, the program makes it possible not only to move the photo around and adjust zoom levels as in the iLife programs, the user can also cause the image to rotate during the effect's duration, something that can be adjusted using a "wheel" button displayed below the image preview. Other effects included include one that gives a sense of a camera lens closing (much like the effect used in the iPhone's camera) and a really spectacular zoom effect which, when used in conjunction with a close up and distance shot of the same scene, can create an amazingly realistic sense of "zooming out" to the distance shot.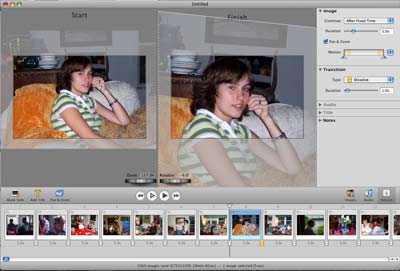 SEEING CLEARLY.
FotoMagico's interface resembles iMovie, but has a nice side-by-side before and after view when arranging a slide.
While there is not the multitude of different titles (text overlays) available for FotoMagico that exist in iMovie, its one title is quite a bit more flexible than the ones offered in iMovie. Like the Ken Burns effect, a before and after is displayed, allowing the user to quickly arrange for the title to move around the screen from and to whatever points one wishes. FotoMagico's font handling is also quite sophisticated, allowing the user to have multiple different fonts, sizes and colors within one title – even images can be added to the title!
Audio is handled similarly to iMovie, with an audio channel on the timeline just below the photos. The audio functionality of the program is somewhat more limited than iMovie's, lacking a way to adjust volume at specific parts of the song, cross fade between songs, or cut the length of the audio. It does feature a very well designed control for muting the sound at the beginning or end of a song, but does not appear to allow one to avoid an abrupt fade out or overlap another song to fill in the muted part of the track. Those requiring a more powerful tool to manage the soundtrack need not give up on FotoMagico, however; a helpful tutorial demonstrates how to use Apple's GarageBand editor to arrange the sound track for the show with relative ease. The process requires exporting a special copy of the movie to GarageBand for the purpose of aligning the audio to the pictures, and then pulling that audio back into FotoMagico. To its credit, FotoMagico's audio controls feature an ingenious "marking" tool which one can use to mark key transitions in the song so that photos will transition in harmony with the music automatically.
FotoMagico does lack the ability to integrate any kind of video footage with your photos, however since it can produce high quality video of the slideshow, it would be easy enough to take a FotoMagico show and tie it together with video within iMovie. For smaller batches of photos, it may make more sense to just work with them in iMovie, but for larger photo projects using the two programs together could easily prove to be a time saver.
Perhaps one of the most notable features of FotoMagico is that it is designed to do "live presentations." That is, one can take a FotoMagico presentation and run it perfectly well without first exporting it to a video file or burning it to DVD. In this respect, FotoMagico behaves more like iPhoto or, perhaps as a better point of comparison, a presentations program such as Microsoft's PowerPoint or Apple's Keynote. Being able to achieve iMovie like control over the photos and then have them play as a production quality piece without waiting for lengthy encoding processes and such is a real treat, especially if one is facing a time constraint.
FotoMagico also excels at the reverse of a live presentation; it has a robust set of different export options, including an option to export directly to iDVD, along with the ability to create a customized player (which can limit the number of times the recipient can watch the show) or quickly export as a regular movie file, with a smattering of preset target devices from the iPod all the way up to HDTV.
The added export features, including content restriction controls, customized output and HD support, along with Aperture integration, make the Pro version of the product the best choice for power users and professionals, but the Express version's feature set is otherwise quite substantial and at $49 seems quite reasonable for those who are not professionals but still find the alternative means for assembling slideshows confining.
Boinx has really outdone itself with this product. FotoMagico can easily be imagined as the Photoshop of photo slideshow creation, a perfect complement to iPhoto or Aperture that offers more robust functionality for a specific need. FotoMagico demonstrates what a product can be like if a software developer really understands a problem and stays focused on solving that specific problem. While FotoMagico offers the most benefits to professionals and so-called "prosumers" who regularly require highly customizable slideshows, the affordability of the Express edition, along with an extremely low learning curve, makes the program perfect for almost anyone who takes a decent number of photos. A well thought out layout, rich set of tools and speed at even managing large projects makes FotoMagico seem downright magical and merits it an Open for Business Editor's Choice award (Boinx Software, www.boinx.com, $49 for Express, $129 for Pro version used in test).
Timothy R. Butler is editor-in-chief of Open for Business.