Mar 01, 2010
Imagine a new Ferrari. The specs are incredible: great steering and suspension, 0-60 in around four seconds, a top speed exceeding anything you would ever hope for on a public road. On paper, the perfect machine.
So you order it and wait, then wait some more, then finally take delivery.
And the first thing you notice is not the musical roar of the exquisitely tuned exhaust, nor even the bright Ferrari red. No, what first gets your attention is that it has no windshield.
The hood continues from the front of the car right up to the top. The aerodynamics are perfect — but how do you see to drive it? Ah, simple: a three-inch LCD panel. If you want, for a ridiculous price you can purchase a periscope. But there is no provision for a plain old windshield.
Ferrari would never market such a thing, of course. It would be a joke and would ruin the company's reputation for making fine, well-sorted automobiles. It won't happen, because Ferrari isn't made up of idiots. Ferrari knows what its products are used for and how they are driven.
Ah, if only we could say the same for today's digital camera makers.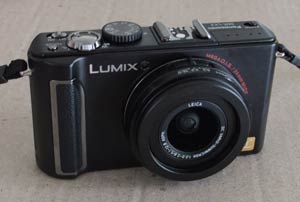 The

LX3

features a compact design (SOURCE:

DENNIS

E.

POWELL

).

I've lately been doing a lot of shooting with a Panasonic Lumix DMC-LX3. On paper, it is a marvel. It's small — maybe a bit too small, only a little bit bigger than the vest-pocket cameras that are all over the place nowadays. It has a nifty Leica-designed lens that is very fast — f2 at its shortest length — that zooms over a 35mm-equivalent range of 24-60mm. That's not vast, but this is a wideangle camera; indeed, I'd like it even better if it were, say, 20-50.
The ridiculous megapixel wars were not joined with this camera. It has a fairly big sensor that delivers a 10-mp image — plenty for making, say, 11×14 prints. But the camera seems aimed at a market comprising people who know that cramming more pixels into a tiny sensor means only that users are eating up drive space storing noise generated by the sensor.
The LX3 is an expensive camera as little digital cameras go, retailing for about $500 and available for about $400. (The same camera with a red Leica badge sells for nearly twice as much, catering to those who have more dollars than sense.) But it is not the typical point-and shoot.
With its fast wideangle lens and general technical competence, it harks back to the glory days of rangefinder Leicas and the street photography school. One used to throw a Leica around his neck, with a 21mm or 35mm lens, and go out looking for targets of opportunity. The photographer could grab the camera, make the shot, and have the camera back hanging around his neck (or backwards over his shoulder) in next to no time. Some very good pictures resulted. The LX3 ought to be the perfect successor to the old Leica film cameras for this kind of thing. But it isn't.
Instead, it is festooned it as if it were an ordinary point-and-shoot camera. Amid its useful, professional features are some really goofy ones: it has, for instance, the provision to put in the names and birthdays of as many as two infants, and automatically calculates their ages afterwards so as to imprint them on pictures taken of the tots as life unfolds. It has a pet function that does the same for dogs, cats, and goldfish. No, I am not making this up.
It continues the nonsensical trend of having a function that allows it to make noisy, jiggly, low-quality movies in high-definition. People who make movies with a still camera are foolish; those who then try to show these to others should be severely punished and have their cameras taken away. It is sad that Panasonic encourages them.
The LX3 continues another trend, acceptable on throw-away junk snapshot cameras but unforgivable for serious photography. In the LX3 it is very nearly a fatal flaw.
It has no viewfinder.
One of the things that made Leicas so good for street and news photography was the excellent optical viewfinder. It was located at the upper left corner of the camera (from the photographer's standpoint) so that horizontal and vertical pictures could be made without smashing the camera into one's nose. The finder showed what would be in the picture. A bright line frame changed its area as different lenses were used.
Digital camera makers have mostly abandoned the optical viewfinder, leaving the photographer with nothing more than the LCD on the back. This is possibly the worst idea anyone has ever had. Until recently, Canon included a small optical finder on even its cheapest digital cameras — and this was a no-slouch finder, actually zooming with the lens. If the LX3 were to include a built-in finder, with a zooming bright line over its short range, the camera would be just about perfect. But it doesn't.
Why does this matter? Well, it's nearly impossible to view an LCD with the camera close to one's face. It needs to be held at a distance (which distance increases as one grows older!), making very quick photography very difficult, making photography in bright sunshine problematic, and making holding the camera still for slow shutter speeds an exercise in futility.
That the LX3 has no finder is absurd; that the twice-as-expensive Leica version doesn't is obscene. (Leica has recently introduced another camera, the X1, which does not include a viewfinder, either — and it costs $2,000. To get a built-in viewfinder on a digital Leica, you need to spring — I'm not kidding — $7,000 for an M9. What are they thinking? Is this a plan to establish a database of suckers and chumps, the kind of people who would buy carbon credits?)
There is a provision for an optical viewfinder for the LX3, and a sorry effort it is, too. For about $200 (available at discount, but never cheap) Panasonic will sell you a little optical viewfinder that fits into the camera's flash shoe. But guess what? It shows the field of view at 24mm — period. Zoom out, the finder doesn't change. Those contacts beneath the flash shoe are for the extortionately expensive little accessory flashgun; they do nothing for the finder. (Just to maintain the stream of absurdity, Leica makes its own finder, just as limited, for almost $300.)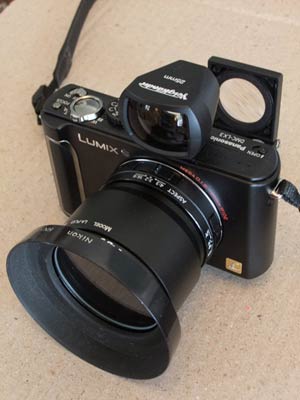 The

LX3

can become absurdly large very quickly (SOURCE:

DENNIS

E.

POWELL

).

The problem is that the LX3 is capable of making very good photographs. As a result, owners find it worth the trouble to go to enormous lengths to make the thing usable, which is to say they've done everything imaginable to give it a finder. There is a brisk market on eBay for accessory finders sold by Yashica, Soligor, Kalimar, Petri, and others a generation ago for use with cheap wideangle and telephoto lenses made for midrange rangefinder cameras. These, at least, have multiple brightlines, though none is just right for the LX3's lens. Likewise, people are coughing up $140 for fixed-focal-length Voigtlander finders, which are at least as good as the Panasonic and Leica offerings.
The cleverest solution is the Clearviewer, invented by a fellow named Gary Robertshaw. It screws into the tripod socket and provides a magnifier, in the fashion of a folding linen tester, that lets one look at the LCD while holding the camera close to the face. It is not perfect — when extended it adds two inches to the thickness of the camera and there's no real way of carrying the camera with it set up for use — but it at least addresses some of the shortcomings of an LCD-only finder system.
These are stopgaps, and imperfect ones. They would all be obviated (well, the Clearviewer would still be useful if, for instance, the LX3 were attached to a telescope for eyepiece-projection photography) if Panasonic and Leica had included a viewfinder, which is to say if they had exhibited the slightest understanding of how serious photographers use cameras.
There's another flaw in the LX3, though it's not as bad as the viewfinder atrocity. The camera uses a separate lens cap instead of a built-in one. Fair enough — lots of cameras, old and new, have employed lens caps. And lots of photographers have thrown the caps in the bottom of the bag, screwed on a skylight or UV filter to protect the lens, added a lens hood both to shield the lens from bumps and to keep direct sunlight from striking the front element, and gone on to the business of picture making. But with the LX3 one must purchase a separate tube that screws around the base of the lens before one can even attach a filter. This tube makes the whole camera about an inch and a half thicker. Add a lens hood and it's almost as thick as it is wide. Providing threads at the front of the lens would have been trivial. Again, what were they thinking? Or, really, were they thinking?
Transforming the LX3 from cute little camera into something fit for the steady and reliable taking of good pictures turns it into a kind of grotesque lump. What is so troubling is that the wounds are all self-inflicted. It could so easily have included a finder and lens ring threads. And none of the aftermarket remedies come even close to producing what we would have had the thing been properly equipped to begin with — and the attempt adds $250 or so to the price.
Thus, what could have been one of the all-time great cameras — a true classic — is instead a sorry almost-great camera.
Kind of like the world's best Ferrari, if it were shipped with no windshield.